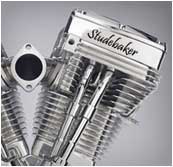 A Studebaker V-twin?
Studebaker isn't the first name that comes to mind when I think of motorcycles. In fact, it never came to mind until I recently ran across a story that the name "Studebaker Motor Company" has been bought and plans are in the works to manufacture Studebaker-branded scooters and motorcycles.
The Studebaker Motor Company Website lists Ric W. Reed as the president and CEO of the company. In fact, Reed's is the only name on the site. With the physical address listed in Arvada Colo., the new company doesn't appear to share anything other than the name with the original South Bend, Ind., company. The manufacture of scooters is merely part of step one in a six- step plan to produce Studebaker cars. The company is currently seeking "qualified investors."
I'll always pull for somebody trying to get a business off the ground. I wish them success and have hopes for new jobs, and a new product. But I also have concerns for those "qualified investors." Listed in his six-step plan is the intention to have only the final assembly done in the United States. Most of the manufacturing will be foreign, meaning the lion's share of the labor and material purchases will probably benefit non-Americans.
I'm also a little put off by somebody purchasing the name of an old company simply for the advertising effect. I see no more than verbal homage to Studebaker. Most of the manufacturing, if things progress that far, will be overseas. The assembly plant is in another state and there is no mention of anybody from the original company being involved in this venture. The only reason I can see for the use of the name is to make it easier to attract investors.
Finally, Reed says on the Website that he is still reviewing designs and that the right concept has yet to reach his desk. When I attended trade shows years ago we used to refer to software being hawked by vendors that had not actually been written as vaporware.
If a physical motorcycle actually materializes from the smoke, I'll certainly be interested. In the first half of the 20th century, Studebaker forged an enviable reputation for reliability and quality. Let's hope this new company acquired that ethos along with the venerable name.
- Guy Wheatley