LITTLE ROCK-A man accused of killing an Arkansas real estate agent is trying to convince a jury that he and the woman were having an affair and her death was not a kidnapping gone awry, as his estranged wife claims.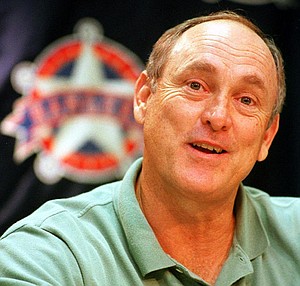 Photo by AP/AP
FILE -- Strikeout king Nolan Ryan talks with reporters about his upcoming Hall of Fame induction in Arlington, Texas, in this July 1, 1999 photo. Ryan was in stable condition Monday April 24, 2000 after emergency double bypass surgery and is expected to stay in the hospital about a week. (AP Photo/Tim Sharp)
Arron Lewis is accused of capital murder and kidnapping in the death of Beverly Carter in 2014, who disappeared during an appointment to show a home in Scott, east of Little Rock. Lewis' wife, Crystal Lowery, who has filed for divorce, testified Thursday that she wanted Lewis out of their home and took part in a ransom plot he concocted so Lewis could raise enough money to move.
"I don't know why I didn't call the police," said Lowery, who pleaded guilty to kidnapping and first-degree murder in Carter's death and is serving a 30-year term.
Carter's body was found in a shallow grave at a concrete company where Lewis once worked. Shortly after his arrest, he told reporters he did not kill the woman, but when asked why she was targeted, he said "because she was just a woman that worked alone-a rich broker."
Now Lewis and Lowery differ on how Carter came to die.
Lewis' lawyer, Bill James, told jurors in his opening statement Wednesday that Lewis and Carter were having an affair and suggested that Carter, after having sex with Lewis, may have died during a consensual sex act with Lowery.
But Lowery told jurors Thursday that the plan was to keep Carter in an abandoned office building at the concrete plant while making ransom demands. Because of changes at the concrete plant, Lewis drove around with Carter in the trunk of his car.
"Where are you going to take her because I don't want her at the house?" Lowery said she asked Lewis. "He didn't have anywhere to take her, and he was driving around and he said he could get pulled over at any moment and he needed to get off the road."
Lewis texted her a photo of Carter in the trunk of his car with duct tape on her wrists and face. She deleted the photo, she said.
Lewis eventually took Carter to their house, but after discovering she had no money, he returned to her car to take her debit card, Lowery said. After running into police, he returned home and the couple decided Carter had to die because she might have been able to identify them.
"I have prescription medication in the bathroom she could have seen," Lowery said.
Lowery said Lewis left with Carter but returned without the woman, and told Lowery he had choked her until she died.
"He said that it took a long time," Lowery said.
In a cross-examination, James asked whether the couple had any scenario in which Carter would live.
"I didn't really think that far ahead," Lowery said.
Prosecutors rested their case late Thursday.