After a Texas inmate beat a guard unconscious with a metal bar, he threw his limp and dying body down a flight of stairs and doused the scene with pepper spray, according to a Texas Department of Criminal Justice serious incident report made public Friday.
The internal report chronicles in graphic detail the brutal, two-minute attack on Correctional Officer Timothy Davison, 47, allegedly at the hands of an inmate nearly two decades into two life sentences.
Apparent lapses in the execution of standard operating procedure might have allowed the convict the opportunity to attack Davison with deadly force at 9:01 a.m. in mid-July last year at the Barry Telford Unit in New Boston, Texas.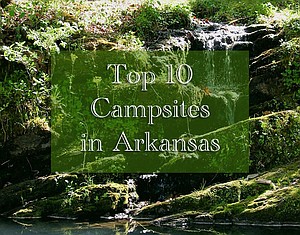 Photo by Michael Storey
While camping is usually permitted year-round in Arkansas, many people only find time for one or two trips a year. Given the brutally hot summers and unpredictable winters, spring and fall are usually the preferred camping seasons for locals. Aside from the cooler temperatures, fall is a special season for Arkansans because of the red and golden hues of turning leaves. This is why many once-a-year campers wait until the autumn months for their annual camping trip. Luckily, Arkansas has plenty of state and national parks. Whether you prefer enjoying the scenery from a comfy cabin, kayaking along a river, hiking and biking through natural trails or camping in lush forests, this state has something for every outdoorsman. With so many options, you may have trouble deciding where to go. Don't worry; we have put together a gallery of the top 10 campsites (and camping areas) of Arkansas, as provided by our outdoorsy readers and the Arkansas Department of Parks and Recreation. So air out your tents, get your fishing and camping supplies together, and start exploring! (Several photos for this feature were submitted or taken by the Arkansas Department of Parks and Tourism)
Bill Joel Tracy's handcuffs weren't double locked as they should have been, states the TDCJ report used to create the following account. The guard who was supposed to be in "close proximity" to Davison wasn't. A door wasn't secured. And Telford is one of only a couple of Texas prison units that still issues metal tray slot bars to correctional officers, according to TDCJ sources.
The bars are used to manipulate the rectangular openings in cell doors so things like meal trays can be passed back and forth. According to the TDCJ serious incident report, Tracy slipped a hand free of his cuffs as Davison was opening the door of cell 66 in building 12's administrative segregation unit. Tracy's daily hour of recreation in E pod's section-four day room had just ended.
Document
Maurice Clemmons' clemency documents
View
Tracy allegedly punched Davison in the side of his face, knocking him to the floor. The inmate grabbed the guard's tray slot bar and began pummelling him. Davison managed to stand and try to defend himself, but he and his assailant tumbled to the floor. Tracy regained his footing first. The inmate swung the metal bar again and again, landing repeated blows to the guard's head and face. Davison held his hands up until he appeared to lose consciousness, according to the report.
Tracy allegedly swiped Davison's chemical spray before he picked him up and hurled him down the stairs. He unleashed a cloud of the noxious aerosol into the section's entrance and threw the tray slot bar in the direction of a group of approaching correctional officers, striking the concrete above the doorway. Tracy walked into his cell and closed the door. Davison was pronounced dead at a Texarkana hospital an hour-and-a-half later.
After the attack, Tracy allegedly made comments to TDCJ staff that, "It was time," and "They didn't know how dangerous I am." Tracy allegedly told a warden at the Coeffield Unit, where he was transferred from Telford, that Davison was "a good officer who was fair to the offender population."
Davison had less than a year of experience as a correctional officer.
"He (Tracy) continued to justify his action by indicating the staff were complacent and 'I had my reason,'" the report states.
Former Correctional Officer Shanica Young was with Davison as Tracy was removed from the day room, but Davison walked Tracy back to his cell alone. When Young escorted Tracy from his cell to the day room to begin his hour of recreation, she did not notice that Tracy had packed all of his personal belongings.
Since the incident, becoming aware of "unusual behaviors such as when an offender packs their personal property without prior notice of a housing change has been emphasized," the report states.
When six correctional officers arrived at 9:03 a.m., Young was standing in the entrance of the wing. While Young had transferred from another Texas prison unit where she worked in administrative segregation and had been trained on Telford protocol during shift briefings, she had not undergone 16-hour, on-the-job training and had only worked a month and a half at Telford when Davison was killed July 15. She remained in section four while Davison escorted Tracy to section five and did nothing when he was attacked, the report states.
Young was disciplined for failing to assist Davison during the assault, for failing to strip search Tracy before he left the day room, and for failing to secure the entrance to section four when she passed through it. Young resigned after Davison's death.
The gruesome assault was captured on video surveillance and will likely be played for jurors during Tracy's upcoming capital murder trial in Bowie County. The state is seeking the death penalty.
The serious incident report includes recommendations that TDCJ establish a group to evaluate alternatives to the metal tray slot bar. Also recommended is that all officers be required to undergo the 16-hour training before being assigned a shift in administrative segregation and that an order concerning administrative segregation officers should be updated to reflect that two correctional officers must be present at all times during the escort of an administrative segregation offender with a "security precaution designator."
Tracy, 38, has a long history of violence both in and out of prison. He began serving two life sentences assessed in Rockwall County in August 1998, nearly 18 years ago. Tracy was convicted of attacking a 16-year-old girl and of assaulting a police officer who attempted to take him into custody. Tracy has received additional sentences of 45 and 10 years for attacking guards at other Texas prisons.
"Offender Tracy had 49 major disciplinary convictions on file to include attempted escape, possession of contraband, possession of a weapon (multiple), staff assault with a weapon (multiple), offender assault with a weapon (multiple), tampering with a locking mechanism, refusing to obey orders, and creating a disturbance. His last major disciplinary was on April 22, 2014 for attempted escape," the report states.
If found guilty of capital murder in Davison's death, a jury will have two sentencing options: life without the possibility of parole or death by lethal injection. Tracy's next pretrial hearing is April 1 before 102nd District Judge Bobby Lockhart. A trial date has not been set.