Bakers often work early hours to get the goodies out, and this morning a Texarkana woman will be doing so on national TV.
Texarkana resident Emily Graham only began baking sugar cookies about two years ago, but today she's one of three contestants in a cookie competition on "Good Morning America." She was scheduled to fly to New York City Thursday morning for today's show, where she'll appear sometime between 7 a.m. and 9 a.m., she said.
All of this is a whirlwind surprise for Graham, who happened to be watching "Good Morning America" just weeks ago when they announced what turned out to be a contest. She decided to enter, not thinking anything would come of it.
A busy stay-at-home mother of her 4-year-old daughter Sydney and room parent at her daughter's school, she has a side job with what she calls Graham Slam Bakery, pun definitely intended. It's a cookie biz that's won her a following of roughly 1,400 fans on its Facebook page.
Cookies of all shapes and sizes for all sorts of occasions are Graham's thing, and she sent a photo of her favorite Christmas cookies and the recipe to "Good Morning America."
This past Monday, she explains, a producer contacted her to get more information. "They decided to do a cookie competition instead of just featuring a recipe," Graham said. A day after an over-the-phone interview, she got the word she would be part of today's program.
It all came together "super super fast," said Graham, who on Wednesday was busy baking cookies for the show. She'll bring six dozen decorated cookies and a dozen naked ones (that's without icing) to the show. She suspects she'll have to decorate them while there.
"I'm just doing the classic sugar cookie, and that's all I do," Graham said. Among at least a dozen Christmas cookie varieties she makes, she's prepping the Christmas tree, nutcracker and reindeer sweater cookies.
For a baker who has typically sold to friends and family, gaining business through word-of-mouth and her Facebook page, it's a surprise. But if you look at the detail she lends to her cookies, it shouldn't be a big surprise, really.
"I couldn't believe it. I was super shocked," Graham said when she heard the news. "I thought it was a prank. I thought somebody had hacked my email and somebody was just playing a mean prank on me."
But she was excited and nervous at the same time. She's never been on TV and never really tried before. She thought maybe she'd have her photo and recipe featured on the show, but not this. Her family and friends are excited for her, including her husband Anthony, who's actually the main cook in this marriage. Her mom is coming with her to NYC.
"Everybody said they're going to record it on TV," Graham said of today's show, which airs on ABC station KTBS, channel 3 here locally.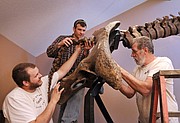 Graham, who taught herself by watching YouTube videos, doesn't have many details about what will happen on this morning's show. And she's not sure why she was chosen. She uses royal icing, which she describes as shiny and smooth. It helps her make those intricate details.
"She said they looked super detailed," Graham said about the producer's input. She's modest about her cookie work, but clearly she's won many fans as a baker who works right at home.
Christmas baking and decorating have a special place in her heart.
"When my grandmother was alive when I was little, we always used to decorate gingerbread men every year. It was always nice. We'd listen to Christmas music and decorate the cookies. So it always was a sweet memory," Graham said.
Now that their daughter is becoming excited for all things Christmas, the family is establishing new traditions, including looking at Christmas lights.
And today, Graham will take her baking skills to national TV, so tune in this morning to see her cookie craft skills on full display for the world to see.
"I think I'm there for the experience. It's a once-in-a-lifetime opportunity that I got," she said. "And I'd love to make my daughter happy and proud."
(More info: Follow the Graham Slam Bakery page on Facebook.)