Two Texarkana sisters are tackling the needs of the city's homeless population hands-on by providing them with backpacks filled with essential items for survival on the streets.
Grace Cantu, Lily Cantu and their family have worked for a few years with Church Under the Bridge to provide backpacks filled with hygiene items, nonperishable food, hats and gloves, blankets and Bibles. This year, they've increased their efforts and are stuffing the backpacks as part of Grace's project-called Gifts from Grace-for the gifted and talented program at Liberty-Eylau Middle School.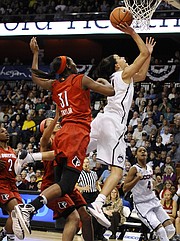 "It all started as a family thing, and we have friends and distant family that help, but it's mostly our family thing, and we make sure we get up close and personal," Lily said of her family passing out the backpacks to the homeless. Lily, Grace; their father, Joe; stepmother, Kita; and sister Brooklyn will give out the 16 backpacks this week. Lily said interacting with the recipients has been a heart-warming journey.
"It's amazing. The last time we passed out backpacks, a man walked up to us and he picked up the girliest one we had," she said. They asked him if he was sure he wanted that one.
"He said 'No, I'm getting this one for my daughter.' We handed it to him and said, 'Take two,'" Lily said. "He cried right there. It was amazing, just seeing the look on their faces when they have all these things."
Grace said she and Lily also pick up trash and walk the dogs of those who attended Church Under the Bridge services on Saturdays.
"There was one dog whenever they sang the church music out there the dog started howling with the music, so he sang with us," she said. "We talked with (the owner), and he said, 'I taught my dog to do that because I figured if I was going to be a godly man, my dog should be, too.' He sat there and went through all the food in the backpack and picked out everything the dog could eat."
Lily added that they gave the man and his dog, Bruce, extra supplies.
"We gave him an extra water bottle for his dog because he did more for his animal than he did for himself," she said.
The girls said working closely with those in need has helped them understand the severe situation homeless people face every day.
"Some will say it's their fault they're homeless, because they can go out and get a job, but a lot of places, they won't like their clothes if their clothes are all torn up, so really, they can't just get up and go get a job, so it's not really their fault," Lily said.
"It's so much harder than that when you don't have running water and a place to get ready for a business-type interview," Grace added. "You have your basic necessities, and that's about it."
Lily said they are working to not only provide necessities, but also to brighten the day for those who don't always have what they need.
"Sometimes it can be really hard, because people think you're just doing it for attention," she said. "They don't understand we're not just doing it for the pride of getting our names in the paper. We do it for the pride of seeing their faces when we finish what we've done."
The 16 backpacks they will give out also include Bibles donated by Michelle Cox, whose daughter Chloe Cox, a classmate of the Cantus, recently died of brain cancer. Lily said Cox also bought sleeping bags for the project with money she found in Chloe's bedroom after she died.
Those sleeping bags will be given out along with other donations, she said, adding that this year, they're working extra hard to get as many as possible.
"This year, it's supposed to get a lot colder than it has for the past three years," Lily said. "Last year, they lost two of the homeless men to the weather because it was so cold. Nobody downtown would let them in."
The girls have a goal of stuffing 35 backpacks and are still taking donations. They are most in need of personal hygiene items, backpacks, blankets, nonperishable food items, water bottles and sleeping bags.
Donations can be dropped off at the middle school office, 5555 Leopard Drive, and monetary donations are accepted accepted year-round at gofundme.com/gifts-from-grace.