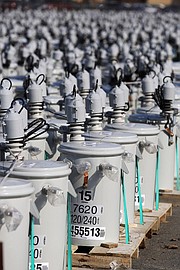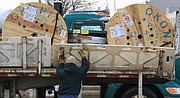 A Hooks, Texas, couple facing child endangerment charges allegedly told Bowie County deputies that they locked a 7-year-old boy out of their home and told him never to return because he is possessed by demons and behaves badly.
Ronald "Keith" Wright, 56, and Rendy Jo Wright, 39, allegedly kicked the boy out of their home Aug. 26 in the 400 block of County Road 2111 in Hooks, Texas, according to a probable cause affidavit used to create the following account. Bowie County Sheriff's Office deputies responded to a welfare concern call that day in a church parking lot near the couple's home.
A neighbor of the Wrights told deputies the boy had spent most of the day at his home, about a half mile from the Wright's residence, playing with his son. The neighbor said that he told the boy it was time to go home when it neared the dinner hour. The boy left but returned about 10 minutes later and told the neighbor his mother had locked him out of the house.
The neighbor, believing the Wrights might not be at home, drove the boy to the Wrights house, where he allegedly observed Keith Wright mowing the yard.
"He advised that he assumed everything was okay, could see that the family was home, and so he let (the boy) out of his truck at the residence," the affdavit states.
About 10 minutes later, the boy returned to the neighbor's home crying and said that "Keith Wright told him to go away and never return home again, ever. He said that his mother locked him out of the house and told him the same."
The neighbor said that at that point he called police. When deputies arrived, they allegedly found Keith Wright still mowing his yard. Keith Wright allegedly confirmed what the boy had told his neighbor, that he had been locked out and told to leave.
When one of the deputies asked Keith Wright, the boy's stepfather, why he and Rendy Wright, the boy's biological mother, had done so, Keith Wright allegedly claimed the boy, "would not mind or do what he was told and he was tired of it." The boy's mother allegedly made the same claim. Keith Wright and Rendy Wright allegedly told deputies they had spoken with a preacher about the boy and were told he is possessed by demons.
Keith Wright's behavior allegedly led deputies to ask the couple if they use methamphetamine. While both denied using the drug that day or to being addicted to it, the couple allegedly admitted to using the drug, "as more of a hobby."
Keith Wright and Rendy Wright were arrested last week. Each is charged with abandoning or endangering a child, an offense punishable by two to 10 years in prison. Both are free on bonds of $35,000. The cases have been assigned to 202nd District Judge John Tidwell.