The Pike County Courthouse, completed in March 1932, is the fourth courthouse located on Courthouse Square in downtown Murfreesboro, Ark. The three-story building was added to the National Register of Historic Places on Oct. 16, 1986, in recognition of it being the best example of Art Deco design in the county.
The first courthouse on the site was a log cabin built in 1836, the same year Arkansas became a state. It burned in 1855 and was rebuilt as a two-story wood building in 1856 by contractors Moses and Jackson Brock. It burned down in 1895, taking all the county records with it except for one abstract book. In 1897 the county finished building a third courthouse, this time a brick two-story building that stood until it was torn down to make way for the current courthouse.
The architectural firm of Witt, Siebert, and Hasley, from Texarkana, Ark. was selected to design the building. Contractors May and Sharp were tapped for the construction that was completed in March of 1932 on a budget of $46,500.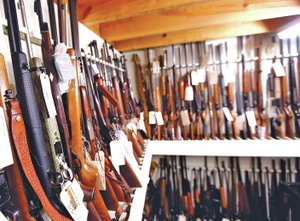 STAFF PHOTO JASON IVESTER Guns are stored in an evidence room Friday at the Benton County Sheriff's Office in Bentonville.
Situated in the center of a traffic circle at the intersection of Washington Street and Main Street, the building appears plain at first glance, with buff-colored brick walls topped with limestone. A facade was added to the north side where the main entrance is located. Then, when seen from above, the building reveals itself to be shaped like a thick, blocky plus (+) sign.
The ground floor boasts an oval-shaped lobby surrounded by administrative offices along with two curved staircases of polished dark wood that lead to the second-floor courtroom. A third staircase at the rear of the building leads to the judge's chambers. The tile floor repeats the plus sign shape of the building with dark tile pluses surrounded by tan tiles, tying the inside and outside style of the building together in a cohesive whole.
The wood-paneled courtroom has Tudor-style, dark wainscot walls. The nickel-plated chandeliers in the room, complete with smoked glass, are the original lighting fixtures. They depict a phoenix, which any Harry Potter fan knows is a mythological bird that dies in a fire and is reborn over and over, just like the courthouse itself. On one side of the judge's bench is a door marked "Prosecuting Attorney's Room" and on the other side is a twin door marked "Defendant's Attorney's Room."