John Miller, the senior pastor of Church on the Rock, Texarkana, Texas, cites Matthew 25:37-40 as the basis for his church's ongoing support for drilling water wells in Mexico.
"Lord, when did we see You hungry and feed You, or thirsty and give You drink? And the King will answer and say to them, 'Assuredly, I say to you, inasmuch as you did it to one of the least of these My brethren, you did it to Me.'"
From Dec. 10-15, Peter Corcoran, a local attorney, and Joe Lippian, both members of Church on the Rock, went to Atoyac de Alvarez, in the state of Guerrero, Mexico, to put that scripture into action by drilling four water wells in a poverty-stricken area that has long been bereft of clean drinking water, two of them at schools. Joining them was the Rev. Sam Walker of the Beaumont Church on the Rock and Tomas Shaffer, a full-time missionary in Atoyac de Alvarez.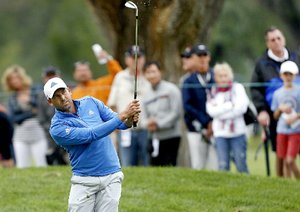 Photo by BRENNAN LINSLEY / AP
Sergio Garcia fired a 6-under par 64 on Friday to take a one-shot lead over Ryan Palmer heading into today's third round of the BMW Championship.
Walker, who also runs Agua Resources, supplied the drilling rig the men used, leaving it in Mexico to be used each month when a new team of volunteers heads down there to drill more wells.
Corcoran said the Mexican government doesn't do anything to help the poor people in the country, leaving them to drink muddy, disease-ridden water from brackish streams and stagnant ponds. He said the people were so grateful they cooked food for them out of their meager stores and treated them as honored guests. Lippian agreed, adding that people would come to watch them drill the wells, staying there all day until they were done.
The water table is fairly shallow in that area. They usually hit water within 35-50 feet. It took three to four hours to drill each hole, then several more hours to put in the pipes, gravel, and pump apparatus to turn it into a working water well. Each well took them most of the day to complete, from arrival to capping it off and leaving.
The three men lamented the fact they didn't have any Spanish speaking evangelists with them since the people were so open and eager for the Gospel. Watching the men come in and dig a well for them, asking nothing in return, opened their hearts in a way little else could ever do. Walker said he handed out Spanish language cartoon tracts showing the Gospel and children came running to get them, sitting down to read them right away.
Walker and Corcoran also emphasized the need for medical personnel to go there on mission trips separate from the water well drilling trips. There is a large medical facility standing mostly unused in the area. Surgeons, plastic surgeons, dentists, and nurses who are interested in going on a mission trip to Mexico are encouraged to call Walker at 409-893-4270 or email him at [email protected] Spanish speaking evangelists are likewise encouraged to contact him.
The next water well drilling trip for Church on the Rock will be sometime in late March or early April. Anyone who is interested in joining them on the trip can contact the church at 903-794-8589.