An interesting statistic emerged last week from Atlanta Public Library's acceptance into Family Place Libraries, the national organization that encourages libraries' service to families.
The national assistant director, Kathleen Deerr from Centerreach, New York, was present to make the welcoming award. She revealed the statistic, which impressed the local audience of some 20 persons including Atlanta's mayor, city manager and one city council member.
"Nobel Laureate economist James Heckman of the University of Chicago has written that research shows investment in early childhood brings a 7-to-ten percent return on investment, increased school and career achievement and reduced cost in remedial education, health and criminal-justice system expenditures," Deerr said.
Photo by Carol Rolf/Contributing Photographer
The David Pankey Jr. family is the 2014 Independence County Farm Family of the Year. Family members are, front row, from left, Emilee, 6, and Allie, 8; and back row, David and Tiffany Pankey holding, respectively, 4-year-old twins Bradley and Shelby.
And with that background, she presented Atlanta Library's membership as a Family Place Library for its service to childhood.
"We've been on probation for a year to receive this recognition," Atlanta Library Jackie Icenhower said.
Afterward, audience member Aaron Whitehead of the Atlanta Area Chamber of Commerce remarked he, too, was impressed with the investment statistic because it indicated a reduced expenditure in criminal justice.
"Incarceration can cost $50,000 a year per person," he said. "And, of course, I like children."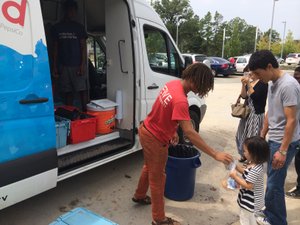 Photo by Lisa Burnett
An Arkansas Dream Center volunteer passes out a sack lunch to a child at the Hillary Rodham Clinton Children's Library on Friday. The Dream Center hosts a free lunch at the library for children Monday through Friday from 11:40 a.m. to 12:10 p.m.
Deerr said 68 libraries in Texas have achieved the Family Place Libraries designation, adding that she was impressed by Atlanta's library and the interest shown by those attending the library's award ceremony.
Texas Fourth District U. S. Representative John Ratcliffe also recognized the library with a certificate of accomplishment. It was presented by his Deputy District Director, Robbin C. Bass of Texarkana.
"A community's objective for serving children," Deerr said, "is to insure children enter school ready and able to learn and ensure the community has a well-educated productive work force in the future."