LINDEN, Texas -A retired Atlanta, Texas, middle school teacher who was working at an area church as secretary and youth leader, has been charged with 15 felonies in connection with the alleged possession of child pornography.
Robert Dale Barkman, 66, was indicted Wednesday by a Cass County, Texas, grand jury for five counts of promotion of child pornography, three counts of attempted promotion of child pornography, five counts of possession of child pornography and two counts of tampering with evidence.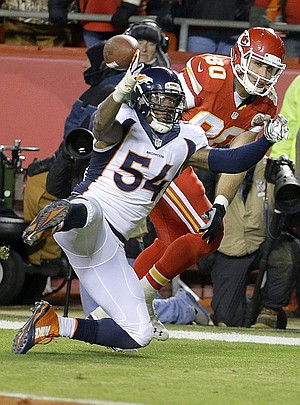 Photo by AP
Denver Broncos outside linebacker Von Miller (58) breaks up a pass intended for Kansas City Chiefs tight end Anthony Fasano (80) in the second half of an NFL football game in Kansas City, Mo., Sunday, Nov. 30, 2014. (AP Photo/Charlie Riedel)
He was taken into custody Friday, according to a press statement from Cass County District Attorney Courtney Shelton.
An investigation into Barkman began in early June when suspicious images were allegedly discovered on his computer at a local church where he served as youth leader and secretary. The computer was taken to the Cass County District Attorney's cyber crime lab for analysis.
Hundreds of images found on the church computer led authorities to acquire a search warrant for Barkman's home. Upon forensic examination of Barkman's personal computers and other electronic devices, hundreds more images depicting the sexual exploitation of children were allegedly found.
"According to investigators, it appeared that Barkman has been creating and holding child pornography since the early 2000s. Barkman is believed to have deleted images and disposed of recording devices prior to investigators running the search warrant, while knowing the investigation was ongoing," the press release states.
Barkman's alleged effort to conceal and dispose of the offensive material led to the evidence tampering charges.
Five of the felonies now pending against Barkman are each punishable by two to 20 years in prison. The other 10 charges are each punishable by two to 10 years in prison.
Fifth District Judge Bill Miller, who serves Cass and Bowie counties, set Barkman's total bail at $1,025,000. Should Barkman post bond, he must wear a GPS leg monitor, have no contact with children and restrict his movements to Cass and Bowie counties.
The investigation is being led by the Cass County District Attorney's Office. Agencies which have provided assistance and helped in the search of Barkman's home include Cass County Sheriff's Office, Texas Department of Public Safety Patrol Division and Atlanta, Texas, Police Department.
A date for Barkman's arraignment on the charges has not been set.