With striking portraiture that captures his subject's personality and explores issues of identity, artist Quentin Pace's work evokes timeless and timely questions about themes like the mutability of youth, black youth in particular.
Pace, who hails from Houston, Texas, has a one-man show opening a week from today on Friday, Jan. 24. He's also in town today to lead art workshops with students from Texas High School, Arkansas High School and Fouke High School via the Texarkana Regional Arts and Humanities Council.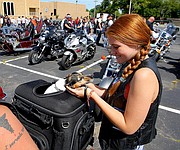 Pace's Regional Arts Center show, titled "Quentin Pace: Who Is You?," will showcase his tremendous talent with portraits, where he often combines the symbolism of flowers and more abstract, geometrical design elements with the expression of someone's face. Often, he takes a collaborative approach, working with his subjects to see how they'd like to be represented in his portraits.
This graduate of the University of Houston-Downtown and University of North Texas often works with acrylic paints and graphite and colored pencil.
Portraits will dominate the work in this exhibit, but abstract works will be included. His previous solo exhibition was "Abstract in Youth" at MKT Bar in Houston. He's been part of several group exhibitions in that city, too, and he's a two-time winner of The Shipnes Scholarship for the Arts.
He often works with friends on portraits, taking photos and working from there, or it may be people he finds whose social media photos appeal to him in some way. It's a process that's convenient, but portraits are an art he's practiced since his younger years.
"I've been doing portraits since I was little," Pace said. It started as practice, working with magazines.
"What draws me to them now, I like the idea of having my friends and my loved ones in my work," Pace said. "And having them presented on views for everyone to see, and hopefully maybe having the work preserved." The familiarity with the form also inspires him.
Exploring the theme of youth is partly because of his own age, but also elements like flowers reference the idea of beauty and then death and dying. Pace here refers to news reports of young, black people being shot and killed. "I think it still stands," he says of this theme, which he discusses in his artist statement as the "transient nature of youth."
The incorporation of geometric abstractions is influenced by artists like Kazimir Malevich and his Suprematist work. "Eventually I just moved that into doing larger ones," Pace said, adding, "What they were trying to do is convey the human spirit within them. That always really appealed to me."
It's beautiful and simple, but also represents more than what it appears to, Pace said. His use of color is based primarily on the mood he aims to present. He also incorporates some color theory.
Growing up, Pace was inspired by his father, who did art when he wasn't working as a plumber. Art supplies were always at home. The artist Jean-Michel Basquiat was also an inspiration. Comics, too.
Looking back on his work, Pace sees a change in how he handles his portraiture. He's more selective with what he chooses to portray and how he portrays it.
"As I got older, more developed within my work, portraits, I went from creating art for art's sake to a point where I wanted to actually portray something within my work," Pace said, "portray a message or something like that within my work."
To see how this young artist has already grown and changed through his art, check out "Quentin Pace: Who Is You?" at the RAC. It's displayed through March 19 in the center's secure galleries.
(Admission is free. The Regional Arts Center is open from 10 a.m. to 4 p.m., Tuesday through Saturday. More info: TRAHC.org or 903-792-8681.)