TEXARKANA, Texas - As the owners and staff of Mayo Manufacturing in Texarkana produce thousands of disposable and reusable masks and protective gowns for first responders and the public, the "angels with sewing machines and scissors" work with joy and purpose.
"This doesn't feel like work," said one Mayo staffer of fabricating the gear which could very well save the life of a first responder or elderly grocery shopper.
Mayo Manufacturing began producing one-time-use disposable masks, reusable and washable cloth masks and disposable gowns for medical and hospital use earlier this week. In four days, the furniture company has supplied local first responders and businesses with hundreds of thousands of the disposable masks, produced more than 9,000 reusable masks and supplied first responders with 900 gowns.
Steve Mayo, president of Mayo Manufacturing, said LifeNet was in dire need of the gowns and is now turning to Mayo to keep them protected. The LifeNet paramedics may wear medical N95 masks when responding to a call involving a possible COVID-19 patient but a disposable Mayo mask may be placed on the patient to help keep the virus from contacting the surfaces and infecting the people around them.
Steve Mayo said he has received a call from CHRISTUS St. Michael hospital in Texarkana for gowns and has supplied masks to a variety of first responders in the area including emergency medical, law enforcement, probation, game wardens, probation and parole offices and court staff on both sides of the state line. Mayo said he received a call from a state trooper in Louisiana pleading for masks.
"I was going to tell her they were for our local folks first but her need was so great, I just couldn't say no," Steve Mayo said.
Steve Mayo, his brother Patrick Mayo and Mayo Manufacturing employees are working side by side to fabricate the needed coverings. Bowie County First Assistant District Attorney Kelley Crisp stopped in Friday and donated a few hours of her time to the endeavor.
"I think I cried like, four times," Crisp said. "These people are incredible."
Crisp spoke of the workers who typically sew upholstered furniture for the company but now contribute to the battle against COVID-19. The workers are getting catered lunches a couple of times a week, courtesy of their employers.
Yuliana Gonzalez, the company's human resources manager, said Mayo typically has about 250 employees but the pandemic had shut production down. About 30 employees have been called in to work on the mask/gown project.
"It's amazing to think on Tuesday we weren't even doing this," Gonzalez said. "We just want to be able to reach as many people as we can in an efficient manner."
Line worker Sandra Moya said she is "proud to be a team member working on this project. Above all, the health and safety of the community is a major priority and if we can help take away fear during the pandemic we will."
Isabella Sanchez said she is proud and happy to help. "It was tough staying home and feeling helpless," she said. "I'm happy to be up here and working and thankful to be able to help in any way we can."
Plant Manager Ken Cheatham said when he walks into the Mayo plant in the mornings "it feels like their mission and not just work."
"We're just trying to make a difference," he said. "It's so meaningful to be able to provide comfort."
Mayo Manufacturing is giving away both kinds of masks to first responders and has given some disposable ones to local businesses, such as grocery stores, for customers to don when they enter a store and toss when they leave. The cloth masks may be purchased at 10 for $50 and the proceeds are used to cover the expense of materials and production for first responders.
The cloth masks are marked with a tag that includes #CoverUpTexarkana, the company's logo, and an email address along with, "Buying one mask provides 100 free masks locally. Thank you!"
Steve Mayo said people who've bought a bag of 10 reusable cloth masks for $50 have handed him a $100 dollar bill and told him to keep the change to provide more for first responders.
Chief Bowie County Community Supervision and Corrections Officer Terri Giles is grateful the company is providing masks to probation and the Bowie County Women's Center.
"We are so fortunate to have such caring business owners that support the field of corrections in our county," she said.
Mayo delivered disposable masks to the Bowie County Sheriff's Office and has provided enough to give to LaSalle Corrections employees and those being held in the Bowie County jail. LaSalle is a private company that manages the Bowie County jail.
"Thanks to the generosity of a local furniture company, inmates at the Bowie County Corrections Center in Texarkana now have extra protection against the COVID-19 virus," LaSalle said in a press statement Friday.
The company donated 10,000 single use face masks to BCCC this week Jay Eason, director of operations for LaSalle Corrections said the masks have been distributed to the inmates at the facility.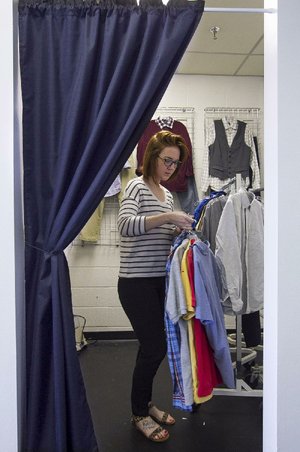 Photo by Benjamin Krain
Arkansas Democrat-Gazette/BENJAMIN KRAIN --3/17/15-- Stylist Amber Taylor puts together outfits for clients of her and David Allan's internet startup Tagless Style. The company is partnering with Goodwill Industries in Little Rock to have first pick of donated clothing to offer stylized wardrobes for it's clients.
Members of the local judiciary, who must conduct hearings for the incarcerated and in emergent circumstances, have received masks fromthe compnay, as well.
"The company and it's leadership are a shining example of being a good corporate citizen in the community," Circuit Judge Carlton Jones said.
Jones serves in Miller and Lafayette Counties, Ark. District Judge John Tidwell, who serves in the 202nd district court in Bowie County, echoed Jones' sentiments.
"A mere thank you doesn't seem enough," Tidwell said. "They recognized a need and acted on it beginning with first responders."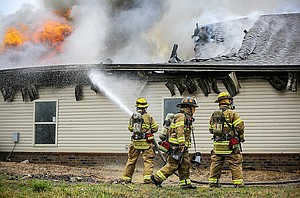 Photo by Stephen B. Thornton
3/22/15 Arkansas Democrat-Gazette/STEPHEN B. THORNTON Little Rock Firefighters work to extinguish a blaze home Sunday morning on Booker Street and Maryland Ave. in Little Rock. The home was under construction but nearly complete but unoccupied.
Texarkana Arkansas Police spokeswoman Kristi Bennett said the outpouring of support for her agency by the community is overwhelming and thanked Mayo for their service to those who protect and serve.
"It's just one more reason Texarkana is an awesome place," she said.
For all the mask making, Steve Mayo, who is a former Texarkana, Texas, mayor, said the most important thing people can do to stop the pandemic is to "stay home."
(Email [email protected] or call 903-838-0518 for more information or to have your business added to receive free one-time-use masks or purchase reusable cloth ones at 10 for $50.)