The nine retired men had had a lot of fun with their work, but it was Pete Schroeder who got the most satisfaction. He guided Bonnie Ivory in her wheelchair down her new, improved outdoor house ramp.
He got to hear Bonnie say a quiet thank-you.
That was all it took and all it takes for the men of the Cass County section of the Texas Ramp Project. Bonnie, 62, living near Marietta, has had one leg amputated. Now her home has ramps for a front entrance and side entrance that accommodate her wheelchair.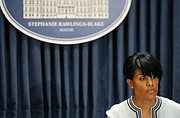 For the ramp project men, it was their 23rd home this year to build this ingress and egress feature. They've worked in 11 different communities, some just outside of Cass County.
Since the local chapter's start in the Eagle Landing community near Avinger in 2016, the men have built 125 ramps. Helpers from around the county have joined the original group, with several coming from First Baptist Church in Hughes Springs and First Methodist Church in Linden.
"With their skill and enthusiasm, they've increased our outreach," Schroeder said.
The Texas Ramp Project originated in Texas in 2006 and has spread to several other states. It is funded entirely by donations, with the work completed by volunteers.
A homeowner who is home-bound is recommended for the ramp. The local ramp section sends out at least two surveyors to assess the situation and prepare a detailed plan. Modules are built in an aircraft hangar at Eagle Landing, and all is trucked to the site
The project men show up early in the morning to install and solve whatever puzzles arise. To direct this has been Schroeder's job since 2016. He's the project leader.
Does anyone doubt the men have fun? Consider they are out in the woods with a good deed to do, each of whom is a pretty accomplished individual in themselves, and they are supposed to build something.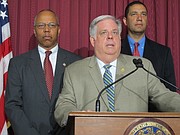 No wonder the project men work on a ramp not to be paid but to have a good time. They banter back and forth unmercifully. Some are more expert than others, but no one coaches or tells another what to do hardly.
They do, however, have a goal line. It's to finish the project in several hours. Perhaps three to five hours. Before it gets hot these days.
Then, the ramp builders can have their pictures made with the family who will come out to stand beside the new ramp.
The men will laugh. They'll shake everyone's hand for letting them do it, pack up their gear within minutes and be gone to get ready for next week's home ramp romp.
And Schroeder gets to turn in a report to the state organization, which has one paid executive in Dallas. That's it.
"Right now we have more to do than we have time or men for. We've got two in the queue right now," Schroeder said.
The idea of building ramps for free is certainly an effective one. Some 1,955 were built in 128 Texas counties in 2017.
A ramp assists the individual to remain at home as well as allow health providers easier access to visit. A $700 ramp could save taxpayers up to $80,000 per year. That's what an uninsured client might cost to be in a nursing home.
The builders sure have a good time with those air-nailers, table saws, tape measures, levels and, of course, lumber. There is one requirement not actually mentioned - one needs to be quick on the repartee.
And as for the homeowner? Don't call Texas Ramp Project if you don't want a ramp. And if you do, stay inside and out of the way. Because one morning around 8 a.m., those men are going to show up and have a great time just outside your walls, building you a ramp in a matter of hours that'll last a long time.
It's a game everyone wins.
Social workers and health care professionals can make ramp referrals for clients through texasramps.org.