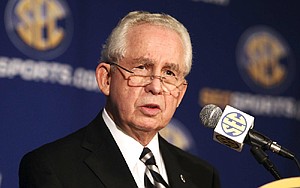 Photo by FR111446 AP
FILE - In this July 21, 2010, file photo, Southeastern Conference commissioner Mike Slive talks at a news conference during the SEC Media Days in Hoover, Ala. (AP Photo/ Butch Dill, File)
TEXARKANA, Texas - Lawyers for the family of a diabetic 20-year-old and a private company who manages the Bi-State Justice Building jail where she died have reached a settlement in wrongful death suit filed in a Texarkana federal court.
Morgan Angerbauer died of ketoacidosis, a condition resulting from extremely high blood sugar, in the early hours of July 1, 2016, while being held in a medical observation cell a few feet away from the nurse's station. Angerbauer died after yelling for help for hours while former Licensed Vocational Nurse Brittany Johnson ignored her pleas.
A video clip Carter played recently at a motion hearing before U.S. District Judge Robert Schroeder III showed that on the day before her death, Angerbauer was vomiting and unable to stand unassisted. Blood sugar readings consistently showed Angerbauer's levels were so high the jail's equipment could not give a precise reading.
In the early hours of July 1, 2016, Johnson responded to the medical observation cell where Angerbauer had collapsed in her own vomit and was barely responsive. Over the next 45 minutes, Johnson repeatedly refused to call 911 or to allow correctional officers to call. Unable to get a blood sugar reading, Johnson made the fatally incorrect decision to give Angerbauer glucose, or pure sugar, later telling authorities she surmised Angerbauer's sugar level was low, not dangerously high. Licensed vocational nurses are not permitted to diagnose patients.
In court filings, Carter attached documents showing that correctional officers and nurses failed to perform cell checks as required and that they falsified records to falsely reflect that they had. Johnson was found by the state nursing board to have violated basic standards of nursing care and was charged by officials in Miller County, where the charges against Angerbauer originated, with misdemeanor negligent homicide.
Johnson pleaded guilty, surrendered her nursing license, and served six months in the Miller County jail.
Angerbauer was arrested June 28, 2016, for an administrative violation of probation stemming from a drug possession conviction.
Angerbauer's family filed suit in the Texarkana Division of the Eastern District of Texas and a trial was scheduled for next month in Texarkana's downtown federal building. A note on the case docket Friday indicates the case settled through mediation with U.S. Magistrate Judge Caroline Craven.
Texarkana lawyer David Carter, who represents Angerbauer's family, said the terms of the settlement include a confidentiality agreement which prevents him from disclosing the amount LaSalle Corrections, the company which has managed the Bi-State jail since 2013, has agreed to pay.
"We were able, with some assistance from the court, to reach a resolution that was satisfactory to all parties," Carter said.
Texarkana lawyer Paul Miller, who represents LaSalle, confirmed that a "proposed resolution" has been agreed upon. The settlement won't be final until it has been approved by the court.
LaSalle also settled out of court a lawsuit stemming from the in-custody death of Michael Sabbie in July 2015. Sabbie, who had been complaining of breathing problems, was thrown to the floor and pepper sprayed as five jailers piled on top of him. In a video of the events preceding Sabbie's death hours later, Sabbie repeatedly exclaims, "I can't breathe, I can't breathe."
LaSalle was found to have falsified documents and violated policy in Sabbie's case as well as during inspections by the Texas Commission on Jail Standards following the in-custody deaths of Franklin Greathouse, 59, in March 2019 and Michael Rodden, 48, in July.
The Bi-State jail began 2019 in non-compliant status with the commission and was deemed non-compliant following special inspections triggered by the deaths of Greathouse and Rodden. At a meeting of the commission in November, LaSalle and the Bowie County Sheriff's Office were warned that continued non-compliance would result in a cap on the number of inmates the jail would be permitted to house.
Such a cap would impact not only LaSalle's bottom line, but local law enforcement as well. The Bi-State jail is currently in compliant status. During a live-stream recording of the commission's meeting Tuesday in Austin, a LaSalle representative said the for-profit jail corporation has been implementing "self-audits" every other day and that a system which utilizes RFID chips to document cell checks is up and running.
The representative said a doctor working for LaSalle has implemented trainings of medical staff meant to address LaSalle's chronic problems with addressing inmate's medical needs. Texas law enacted last year mandates that any privately run jail found to be non-compliant will be called before the Texas Commission on Jail Standards at their next meeting.