Sharp as a pistol crack at dawn, the 2020 Toyota Avalon Hybrid exudes ingenious engineering and meticulous craftsmanship at every turn.
Yes, yes, we know the age of opulent and roomy sedans has passed, and Avalon sales are a third of what they were just seven years ago, but Toyota still has enough loyal customers in the segment to justify producing what the consensus holds to be the best near-luxury car on the planet.
If you're one of those who want a chariot as comfy as a Caddy, as agile as a Camaro and as fuel-conservative as a Civic, read on.
Tested: Avalon Hybrid XSE
Base Price: $38,350
Premium JBL Audio/Navigation Package: $1,720
Delivery: $930
Price as tested: $42,259
Likes
42 mpg
Ride
Handling
Safety
Interior room and quiet
Cabin materials, fit and finish
Controls
Seats
Reliability
Dislikes
Low stance makes getting in and out tricky
Lack of Android Auto
Japan builds a GT sedan
More than three decades ago, I was scratching out a living selling Chrysler minivans and Fifth Avenues. I observed that one might do better peddling the fuel-efficient and attractive offerings coming from Japan.
"Relax," a grey beard told me. "Japan will never build a big car."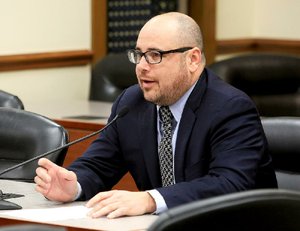 Photo by Rick McFarland
Sen. Jeremy Hutchinson, R-Little Rock, speaks on one of his bills Wednesday in the Senate Committee on Judiciary. Hutchinson is chairman of the committee.
That didn't work out. Four years later, Toyota rolled out the first Lexus models.
Today, Mercury is dead, Lincoln and Cadillac are on life support while they try to figure out how to build SUVs as good as Japan's. In the meantime, Lexus is in high cotton and Toyota just built a sub-$40,000 big car that can run with Europe's best GT sedans at half the price.
Riding on Toyota's light, strong and taut global architecture, the seventh-generation Avalon has the qualities that aficionados of grand touring sedans covet most: the smooth application of power, a quiet, comfortable and well-appointed cabin, a well-managed ride, and handling that is breathtakingly crisp and nimble.
On a dark, deserted Interstate highway, the hybrid Avalon steps smartly to 100 mph and keeps climbing to around 117 mph when the combined 215 horsepower of two, 650-volt electric motors plus a 2.5-L, 16-valve, 4-cylinder gas engine runs out of steam. I share this with you because, frankly, who else do you know who is stupid enough to find out?
We suspect that gas-powered Avalons are even quicker and have higher top ends. Standard is a 3.5-L, six-cylinder, double-overhead-cam powerplant that cranks out 267 ft.-lb of torque and 301 hp. It's one more application for Toyota's GR engine series, found in everything from Tacoma and Tundra pickups to the Lexus ES, RX and GS series cars and SUVs.
Lotus uses a supercharged version in the Evora sports car.
Behind the wheel, the integration of the electric and gas systems is seamless. A dash gauge is the only indicator of whether and how much the electrical system is putting out. Toyota has built hybrid cars for 23 years and has yet to see a sudden or catastrophic battery failure; indeed, all 2020 hybrids, plug-ins and fuel-cell Toyotas come with a 10-year, 150,000-mile hybrid system warranty.
Be sure to mention that when you sell or trade it.
The 2020 Avalon hybrid does much more than get one from points A to B with minimal fuel usage and maximum comfort. It does so with panache. On the dreaded Wamba test circuit, it exhibited exceptional control and generous handling limits when pushed hard through sweeping curves. Body control is firmly damped and the car seems to beg to be driven faster than even we might consider prudent.
We've yet to get our mitts on a non-hybrid Avalon, but every review we've tracked down also praised those vehicles' handling. And ride. And comfort. And safety.
Best in class?
With a long list of standard items, a spacious rear seat, a cavernous trunk, high-quality materials from stem to stern, the Avalon starts around $38,000. It's a satisfying alternative to much pricier offerings from BMW, Genesis, Mercedes-Benz and Volvo. Indeed, its nearest competitor is its corporate cousin, the entry-level Lexus ES, which starts around $40,000.
As we said, affordable large cars is a small niche and most experts see the Avalon's chief competitors as the Kia Cadenzea, starting at $33,100, and Chevrolet Impala ($31,620). Both those vehicles have earned praise in the space.
U.S. News and World Reports put the Avalon third, mostly because it is so much more expensive. Consumer Reports, which pays close attention to things like reliability and owner satisfaction areas where Avalon has topped the charts for more than a decade scored the Avalon 93 out of 100, one of its highest scores ever. The Cadenza garnered and 85 and the Impala an 84, which are also impressive scores.
We are prone to courteously disagree with our professional colleagues at CR, but not this time.
Safety first
As with all Toyotas, a huge selling point is that the company makes standard the five most critical pieces of driver-assist technology: pre-collision system with pedestrian detection, lane departure alert with steering assist, full-speed range dynamic radar cruise control, blind-spot monitor with rear cross-traffic alert.
That's it. Standard. None of this, "Sure we have it. You just have to spend $3,000 more for this model and another $3,000 for this option." Nearly every other manufacturer has played that game for the past three years. Instead, Toyota has built market share.
Those features are in addition to a laundry-list of passive safety systems, such as enhanced vehicle stability control, traction control, 4-wheel anti-lock brake system, electronic brake-force distribution, brake assist with smart stop technology, ten airbags, and front passenger whiplash-injury-lessening seats.
Bottom line
If you're gonna build a big car, better make it world-class. Toyota did.