PITTSBURG, Texas - Region D water planners voted 23-0 on Wednesday for a draft plan that opposes the proposed Marvin Nichols Reservoir for at least the next 50 years, but they were less uniform on how to get the most for East Texas.
The plan, measuring more than 1,400 pages, states that constructing the reservoir on the Sulphur River Basin between Mount Pleasant, Paris and Clarksville should not be included as a water management strategy in the state's next State Water Plan in two years.
Regional boards have until March 2021 to submit their final plans to the state.
Building the lake on 63,000 acres would force up to 140,000 more acres of hardwood timberland into mitigation under federal requirements, Region D Chairman Jim Thompson said. The total area could outsize Gregg County by 1.26 times.
"The reality is this is a huge reservoir," he said. "Therefore, it's going to require a whole lot of acreage."
Gregg and Upshur county representatives on the board suggested, however, that their colleagues consider some level of negotiation with their urban counterparts who will always have the numbers in Austin.
"In our Legislature and our government, it is not necessarily the minority that will win," board secretary and city of Longview Public Works Director Rolin McPhee said.
"For our region and for long-term impacts for our region, we're not going to be able to effectively say Marvin Nichols never gets built, because if we prepare a plan and we get in conflict, ultimately the conflict is going to get resolved. It may be delayed, it may be litigated and it may be put off, but in reality, eventually if that happens, no one is going to stop the resurging growth that Texas is experiencing," he said.
"Marvin Nichols is not really an 'if.' It's not really a 'when,' because we didn't do the water planning for that." McPhee said. "It's what can we secure for the long-term benefit of our region that needs to be our focus."
East Texans will get multiple opportunities to voice their opinions about the plan.
A five-hour public hearing is scheduled for 5 p.m. April 14 at the Mount Pleasant Civic Center, 1800 N. Jefferson Ave., Mount Pleasant. Written comments also can be made online or by mail after viewing the plan at netmwd.com .
All written and verbal comments will be seen by Region D board members before they vote on a final plan to submit to the Texas Water Development Board.
Some board members suggested that multiple public hearings be held elsewhere in Region D, including areas closer to the proposed reservoir site as well as in Texarkana and Greenville.
However, "My inclination is to have the one meeting," said Thompson, who represents Cass County on the board.
Conversely, a joint meeting likely won't happen anytime soon with Dallas-Fort Worth area water districts that want Marvin Nichols built to meet their projected future needs, Thompson said, as they've told him they would rather the conflict be settled by the courts or state lawmakers.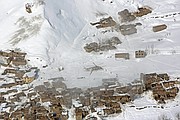 Dallas water planners, known as Region C, have said they intend to include construction of Marvin Nichols in their 2021 water plan to the state.
The draft plan includes recommendations that Region D says should be applied before pursuing Marvin Nichols, but board members never talk about them, said Jim Davis, who represents Upshur County water utilities.
Among the recommendations is that all other alternatives such as conservation and alternative water supply sources should be exhausted, that mitigation come from the region requesting the new reservoir, that property owners should receive the maximum compensation possible and that local governments and school districts get assistance for the recapture of lost resources, jobs or income, according to the plan.
"We just never talk about it," Davis said. "I think and have always thought that just digging our heels in and saying 'no' is not the way for us to optimize the benefits that offset the admitted costs and sacrifices that come with the construction of Marvin Nichols."