_____
TEXARKANA, Texas - Pleasant Grove Independent School District welcomed students and staff to Margaret Fischer Davis Elementary School for the first time early Monday morning, after breaking ground on the school building over a year and a half ago.
The PG District Board of Trustees and Superintendent Chad Pirtle were present to greet the masked students as they lined up to enter their brand new learning environment.
Located at 2800 Galleria Oaks, PGISD's new addition will contain 33 classrooms, several multi-purpose learning spaces, a media center, gymnasium, and cafeteria. The campus also has four grade-level collaboration learning areas equipped with makerspace instructional resources, flexible seating and extensive technology.
Superintendent Pirtle said all the amenities and resources at the students' disposal will provide them with learning opportunities to ensure their mission statement.
"Our mission statement is to ensure high levels of learning to all students, and there are a number of ways that this facility has been designed to ensure high levels of learning for all students," Pirtle said. "One is the collaboration space. And it's not just for students, but it's for our teachers also, to bring ideas from each one of the teachers to have better lessons and higher levels of engagement with our students."
At the groundbreaking, Pirtle said the new building would allow the district to start the science, technology, engineering, arts and math initiatives at a younger age.
"The technology that we're bringing in is world-class technology," he said. "You'll see that on display over the next few weeks, as we show some of that. But we're really excited about today."
Initially expected to be completed in July, the construction of the building encountered a few setbacks because of COVID-19 and weather. But about a week and a half ago, the district decided it was time to open things up.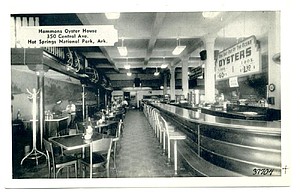 Hot Springs, circa 1940 Hammons cq Oyster House was at 350 Central Ave. in the Garland County seat. Established in 1938, Hammons billed itself as "Arkansas' first seafood Restaurant. We specialize in Seafood, serving oysters on the half shell at our oyster bar." According to the sign above the counter, oysters were 60 cents per half dozen, or $1.10 per dozen. Send questions or comments to Arkansas Postcard Past, P.O. Box 2221, Little Rock, Ark. 72203.
A formal celebration for the opening is still being planned.
The building is funded through a $19.9 million bond voters approved in 2018 for the school and updated security and technology district-wide. Pirtle said the community's investment in this school has paid dividends.
"It's also rewarding for our community, who got behind the bond, went out and worked to get the bond passed and voted for the bond, to be able to finally be at this day, where we have students walking in the building," he said. "That's a celebration for our community."
Davis, who the school is named after, spent 32 years in administration at PGISD, with 23 of them coming as superintendent. She said she was privileged to be a part of the district for so long, and that she is honored to have the school named after her.
"I'm terribly honored that it's been given my name," she said. "But there are so many people who have worked so hard for such a long time, and I think all of them are enjoying this today. I'm thrilled that the teachers and students have this wonderful new building to continue the learning. They have persevered for such a long time, and this facility is a real tribute to all of them.
"I have seen Pleasant Grove grow from K-9 to pre-K-12, and facility improvements on all campuses. And now, they have this wonderful new campus, which is going to serve them for a long, long time."