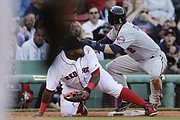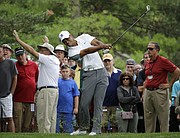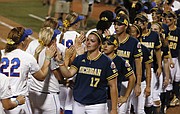 TEXARKANA, Texas - Pending criminal cases in Bowie County against two health care workers and a criminal charge pending against another in federal court highlight the problem of drug diversion.
The Centers for Disease Control defines drug diversion as when prescription drugs are obtained or used illegally. When the diversion occurs by medical caregivers, patients are potentially placed at risk.
The CDC cites several ways drug diversion by health care workers can harm patients: substandard care delivered by an impaired provider, denial of essential pain medication or therapy and risks of infection (e.g., with hepatitis C virus or bacterial pathogens) if a provider tampers with injectable drugs.
Greg Allan Reed, 47, was arrested Sept. 23 for felony charges of diversion of a controlled substance for personal use, possession of a controlled substance and for misdemeanor theft in connection with his employment as a certified registered nurse anesthetist working in the Texarkana area. Reed was released from jail the same day on bonds totaling $73,000.
An investigation into Reed began in July 2019, according to a probable-cause affidavit. A local hospital raised the alarm when a new system designed to closely track drugs dispensed to patients allegedly showed Reed was acquiring larger doses of drugs including fentanyl, an addictive opiate, than his patients required.
The system also allegedly showed Reed was withdrawing drugs from areas in the hospital he was not assigned to work that day and was pulling drugs for patients who were not under his care. Reed's notations on patient charts allegedly raised concern that Reed was working under the influence.
Reed worked in the hospital on a contract basis and was a member of a local anesthesiology group. According to the affidavit, Reed resigned his position after being confronted.
Christina Renee Spears, 31, a registered nurse, is facing the same charges as Reed. She was arrested Oct. 2 and released Oct. 4 on bonds totalling $25,581, court records show.
Spears' misconduct allegedly came to light when a patient complained that they had not received any pain medication while hospitalized despite being prescribed oral Percocet, an opioid, according to a probable-cause affidavit. Spears allegedly claimed she had dispensed the medication to the patient despite the patient's claim.
Spears allegedly was administered a drug screening which showed the presence of opioids in her system. According to the affidavit, Spears was terminated by the hospital where she was working.
Clifford Russell Harris, 38, is scheduled for sentencing later this month in the Texarkana Division of the Eastern District of Texas on a charge of tampering with consumer products. He pleaded guilty to the charge in June. He is currently free on a $10,000 unsecured appearance bond.
Harris, a former registered nurse, was captured on video surveillance breaking into a safe where drugs were kept at a local urgent care clinic. Harris was filmed removing vials of the powerful opioid fentanyl, emptying the vials into another container and refilling the vials with another substance.
According to the Joint Commission, a nonprofit agency which accredits health care facilities and sets health care standards, drug diversion by health care workers is a serious problem.
"Statistics from both the U.S. Substance Abuse and Mental Health Services Administration (SAMHSA) and the American Nurses Association (ANA) suggest that about 10% of health care workers are abusing drugs. Due to the availability of and access to medications in health care organizations, diversion of controlled substances can be difficult to detect and prevent without a comprehensive controlled substances diversion prevention program," the Joint Commission site states.
Dates for Reed and Spears to appear in court are not currently scheduled. Harris is expected to appear later this month for sentencing before U.S. District Judge Robert Schroeder III in Texarkana's downtown federal building.