TEXARKANA - The historic snowfall arriving in the area on Monday has brought public modes of transportation to a standstill for residents. Texarkana Regional Airport is keeping one runway clear for Lifenet flights, but otherwise, things remain grounded.
"We got nine inches of snow yesterday and 12 is forecast for Wednesday," said Paul Merlich, airport director, noting authorities are not normally equipped for this kind of weather.
"We tried getting a plow, but there didn't seem to be one available in the area," he said. "So we've been clearing the runway with construction equipment. The intensity of the weather was surprising, as was the lack of local snowplows."
Merlich says that normal operations are expected to continue for the airport on Thursday.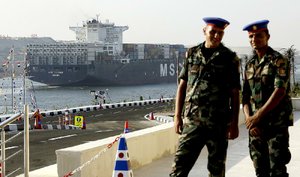 Photo by HASSAN AMMAR / AP
Egyptian army soldiers watch a cargo container ship cross the new section of the Suez Canal after the opening ceremony in Ismailia, Egypt, Thursday, Aug. 6, 2015. The $8.5 billion project was billed by President Abdel-Fattah el-Sissi as a historic achievement by the Egyptian people, but some economists and shippers have questioned the value of the project in a time when global trade is slowing.
Texarkana Urban Transit District, or T-Line has shut down its bus routes for the time being due to safety concerns.
"We are not running until Friday," said George Chappel, operations coordinator. "All buses are parked and won't be resuming normal operations until Friday. We are expecting some tough winter weather on Wednesday, so we are just taking cover until Friday, when it is expected to be clear. We apologize for any inconvenience, our phones have been ringing off the hook. But it is rough out there for the buses. We want to keep our drivers safe."
According to a message left on their phone answering machine, Artex Taxi has "closed their service due to inclement weather. We will reopen at 8 am, Thursday." They can be reached at 903-794-8293.
Amtrak canceled its Texarkana stops for Tuesday. Texarkana's trains, which run on Sunday, Tuesday and Friday, are scheduled to resume normal operations on Friday.
It is unclear if Greyhound is moving passengers through its Texarkana terminal. A call to the terminal gets a recorded message that says severe weather has impacted Greyhound systems and its ability to buy or provide information about specific tickets. The recording provides no local context. Other media outlets in the South are reporting dozens of route cancellations.