NEW BOSTON, Texas - The state announced Friday that it will seek the death penalty for a woman accused of murdering an expectant New Boston mother and taking her unborn baby from her body in October.
Taylor Parker, aka Taylor Morton and Taylor Wacasey, appeared before 202nd District Judge John Tidwell with Texarkana lawyer Jeff Harrelson for arraignment Friday morning at the Bowie County courthouse in New Boston. Harrelson entered a not guilty plea on Parker's behalf to the charges.
Bowie County District Attorney Jerry Rochelle told the court his office will seek the death penalty for Parker in Reagan Hancock's death, citing the horror and brutality of the crime, the alleged months of premeditation and planning as well as an alleged lack of remorse by Parker. Rochelle said the decision was made after careful deliberation among district attorney staff and the surviving family of Reagan Hancock and her baby girl.
First Assistant District Attorney Kelley Crisp asked the court to revoke Parker's existing $5 million bond as allowed under Texas law for capital murder defendants facing the death penalty. Harrelson's objection to Parker being held without bond prompted Tidwell to set the matter for a hearing on the issue March 5.
Until then, Parker will remain in Bowie County custody.
Parker looked down or to the side during most of the hearing, a red mask and long hair covering her face.
The capital murder charge involves the death of Reagan Michelle Simmons Hancock while the kidnapping charge involves the abduction of the unborn infant, Braxlynn Sage Hancock. An information charging Parker with murder in the baby's death filed earlier this year by First Assistant District Attorney Kelley Crisp remains pending.
Crisp mentioned the pending charge at Friday's hearing.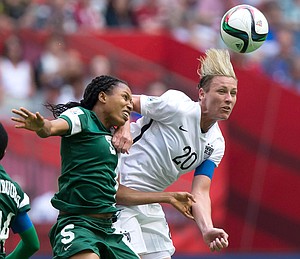 Associated Press Nigeria's Onome Ebi, left, and United States' Abby Wambach vie for the ball during the second half of a FIFA Women's World Cup soccer game on Tuesday in Vancouver, British Columbia, Canada.
"She has not been formally indicted on that charge because at the time of the previous grand jury, information we needed had not yet been made available from the medical examiner," Crisp said. "I have spoken directly with the director of SWIFS (Southwestern Institute of Forensic Sciences) and the chief medical examiner said he anticipates the final report will be ready in the next couple of weeks."
Crisp said a Bowie County grand jury is expected to convene in early February and that she hopes to present the case against Parker involving the death of the baby for formal indictment at that time.
Tidwell formally appointed Mount Pleasant lawyer Mac Cobb to serve as second chair for the defense with Harrelson. Harrelson was appointed to lead the defense team last year. Also discussed at Friday's hearing were procedural plans for carefully documenting the exchange of evidence and a schedule for status and pretrial hearings in the case. A date for jury selection to begin was not discussed.
Parker, 27, allegedly attacked 21-year-old Reagan Hancock the morning of Oct. 9 at her home in New Boston, according to a probable cause affidavit. A Texas state trooper pulled Parker over in DeKalb, Texas, not far from the Oklahoma border, just after 9:30 a.m. that morning. Parker allegedly was performing CPR on the infant girl in her lap and the umbilical cord appeared to be coming from her pants. Parker allegedly claimed to have delivered the child roadside.
An ambulance transported Parker and the baby to McCurtain Memorial Hospital in Idabel, Oklahoma, where the baby was pronounced deceased and doctors determined Parker had not given birth.
The trooper first made contact with Parker at 9:37 a.m. Oct. 9. At approximately 10:20 a.m. the same morning, Hancock's mother discovered her daughter's body in the living room of the home Hancock shared with her husband and 3-year-old daughter in New Boston.
When Hancock's mother called 911 mid-morning Oct. 9, she "was screaming that someone killed her baby."
A large amount of blood was noted throughout the house on the floor, furniture, walls, appliances and other items. Hancock was found lying face down on the living room floor. After learning Hancock was approximately 34 weeks along, just six weeks away from a full term pregnancy, paramedics were asked to check on the status of the unborn child.
When LifeNet personnel turned Hancock over, a large cut across her abdomen was revealed and it was determined the baby had been removed.
Parker allegedly confessed to an investigator with the Oklahoma State Bureau of Investigation that she was not pregnant and admitted to having been in an "altercation" with Hancock.
"Parker used a small scalpel to remove the unborn infant from the body," the affidavit states.
A small scalpel was found lodged in Hancock's neck during an autopsy by a Dallas medical examiner that had not been visible to investigators at the crime scene.
Parker and Reagan Hancock were friends. Reagan Hancock had posted a sonogram photo on the social media site with an early November due date in the months before her death. The happy post included a name for the baby, Braxlynn Sage Hancock.
Parker allegedly convinced her boyfriend she was pregnant and often made social media posts supporting her claim. The boyfriend reported to police the couple held a gender reveal party in advance of Parker's fictitious Oct. 9 due date to celebrate the arrival of a baby that never truly existed. The boyfriend reported that he expected to meet Parker, 27, at a hospital in Idabel, Oklahoma, at noon Oct. 9 for a planned, induced labor and delivery.
According to an Oct. 19 civil filing in Bowie County by the Texas Attorney General's Office, Parker, under the name Taylor Wacasey, is thousands behind on child support to the father of a son she gave birth to in 2013. The motion accuses Parker of failing to make even one monthly payment of $225 toward the support of her son as ordered beginning March 1, 2018. Parker is allegedly more than $7,600 delinquent in payments and interest.
Bowie County court records show Parker divorced a man with the last name Wacasey in March 2018 and was granted a marriage license to wed a man with the last name Parker the following month. In July 2019, Taylor Parker's marriage to Parker ended in divorce in Bowie county.
No children were born of that marriage. Parker reportedly has a daughter who is older than her son and who has a different father.