Atlanta's Outdoor Movie Night last Friday had a lot in common with the drive-in movies of yesteryear.
However, instead of riding in cars, families walked into the theater grounds. Then they spread out blankets to sit on the ground or in chairs to watch as the children ran around on the grassy stage area in front of the screen.
The image the movie-goers were seeing was some 15 by 20 feet large as projected on the building wall. While waiting for the show to start, one family member could be selected to walk over to the concession stand to get bags of popcorn.
Moviegoers had to wait for full darkness to arrive for the image to be seen in its best color. The sound was improved, however. It was large and full, easy to understand, thanks to modern day electronics. No commercials were even necessary.
The evening was presented by the Atlanta Area Chamber of Commerce. No special reason or project -- the event was simply a night to be at the movies with family, friends and neighbors all around watching as well.
That may have been a new experience for the young person, most of whom today might watch a movie by oneself, on a cellphone held in the hand.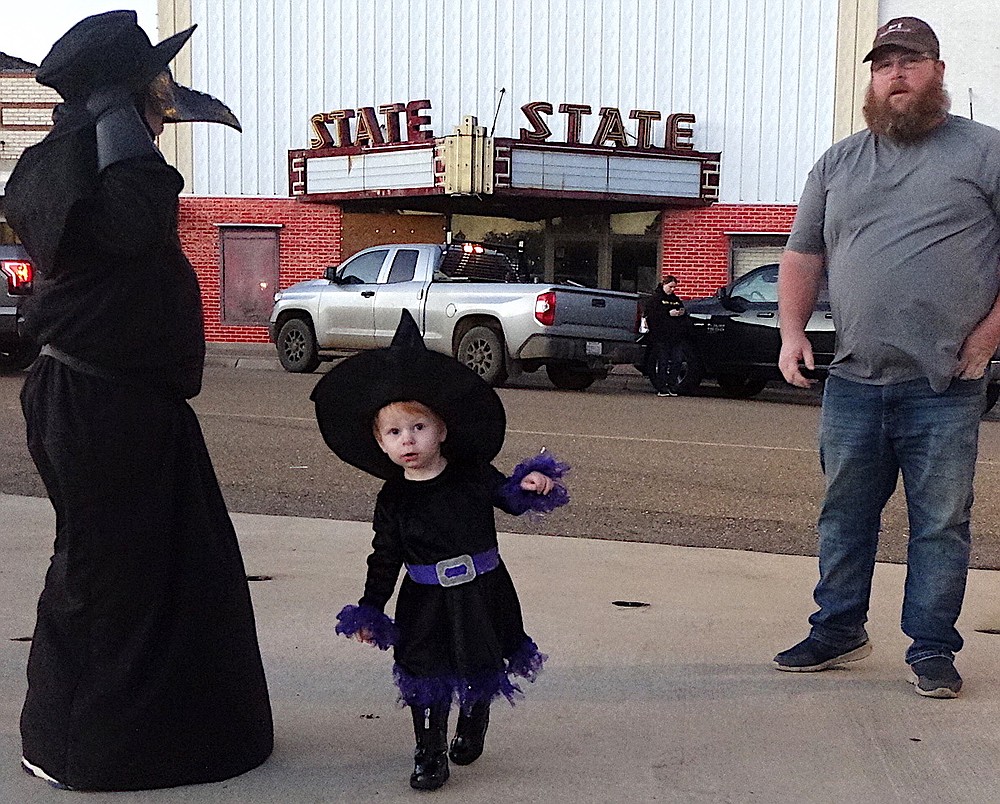 What a special time and way to come to an outdoor movie—be a scary witch-like child like Braden Moore. His mother and father, Kimber and Haden Moore, are going along to do their part as well.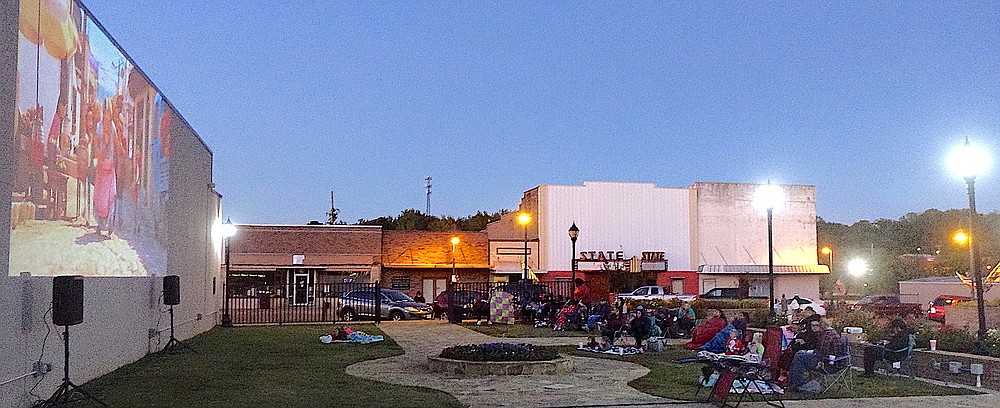 Here's the movie theater of yesterday and today. It's outside on the grounds of the E.B. Woods memorial park in downtown Atlanta. The Outdoor Movie Night Friday was a fall celebration for the public by the Atlanta Area Chamber of Commerce.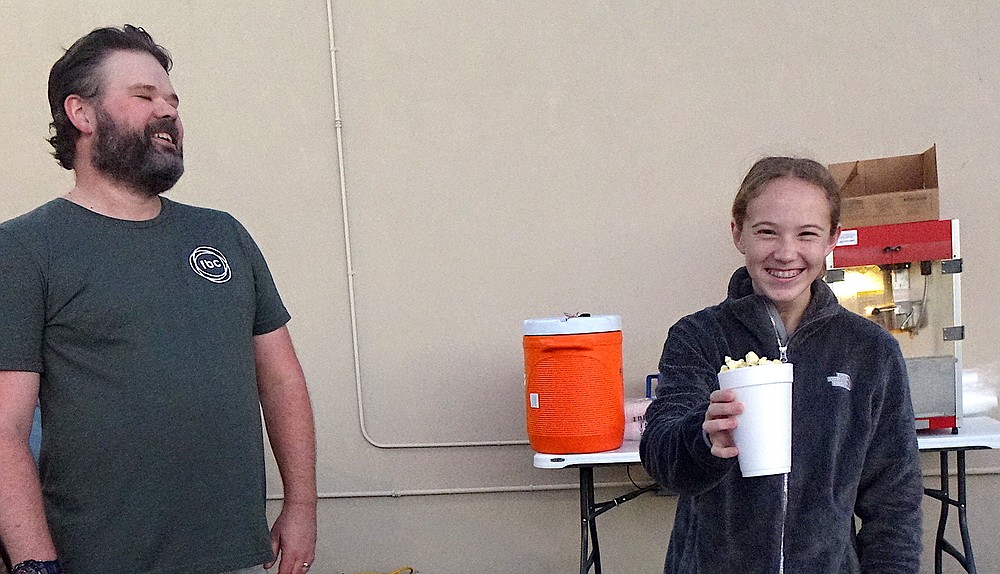 Movies aren't complete without popcorn. So Hallie Carney is offering a bag while Randy Jackson laughs, too. They are with the Atlanta First Baptist Church.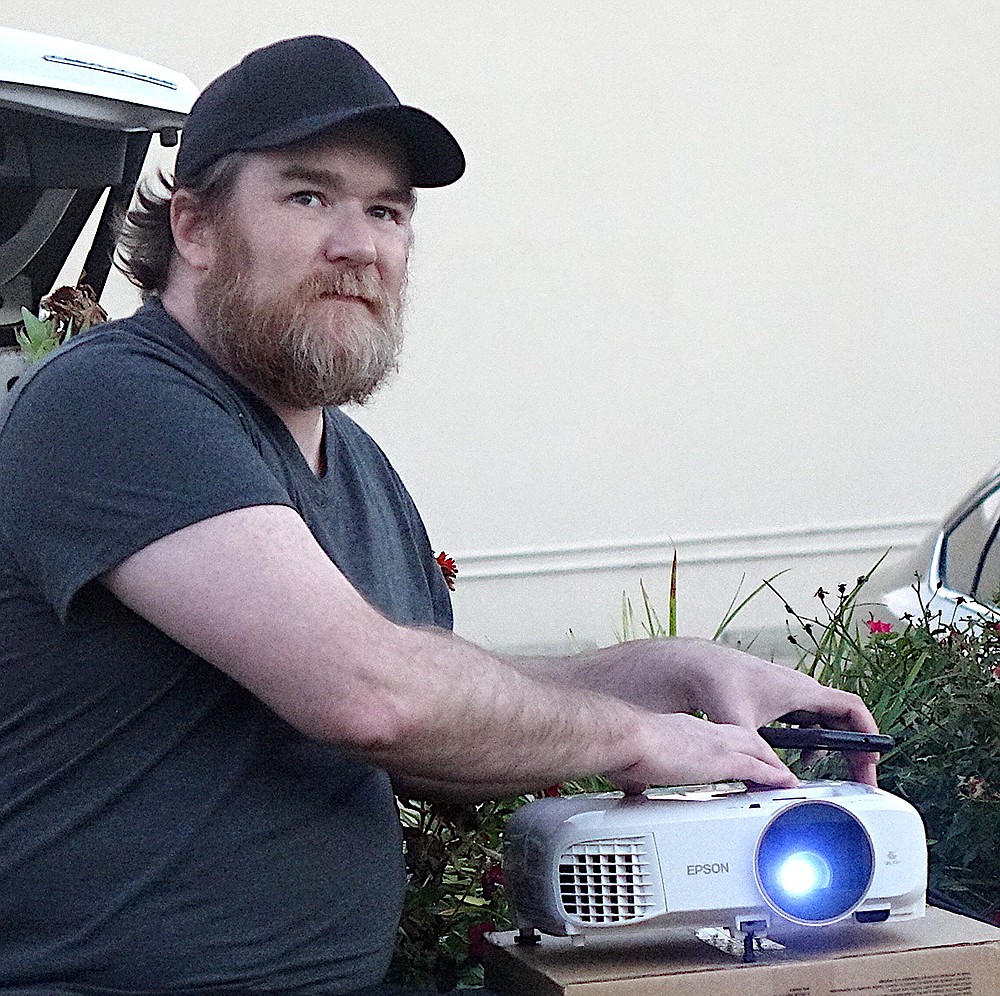 Remember when film projectors were huge, hot and heated machines? This digital projector is all that is needed for Russell Dickinson of Video Perfection in Texarkana to put a movie on the wall.