BELLE VISTA, Ark. -- For decades, completing Interstate 49 along the west edge of Arkansas has been a major goal for the state government, economic developers, and stake-holders along the route.
On Thursday, another piece of the puzzle fell in place.
The Bella Vista bypass in the northwest corner of the state opened Thursday, featuring a host of dignitaries and the governors of Arkansas and Missouri, Gov. Asa Hutchinson and Gov. Mike Parson, respectively.
The project's completion leaves the stretch between Texarkana and Fort Smith as the road's missing piece.
"The completion of the I-49 Bella Vista Bypass is a very important step in connecting I-49 North to Texarkana, said Curt Green on Friday. "Every mile of I-49 that is completed, helps us obtain funding to finish I-49 from Texarkana to Ft Smith ( commonly known as the Missing Link).
Green is a businessman and developer from Texarkana. He is also the president of the I-49 International Coalition.
"I consider the Bella Vista completion a major economic story to the future of Texarkana," Green said. "In 2012, I-49 between Joplin and Kansas City was opened. In 2016, I-49 between Texarkana and Shreveport was opened and now in 2021,t he Bella Vista Bypass is opened."
I-49 is a north-south interstate corridor that when completed with connect our Southern border and Gulf Coast with Canada. The corridor fills the void between I-35 going north from Dallas and I-35 going north from Memphis to St. Louis.
I-49 going South from Texarkana ties into ports in Southern Louisiana. I-69 underway and is mapped to tie Texarkana to Houston. All these elements put Texarkana in the center of a giant transportation hub.
"The Texarkana to Shreveport opening was the first I-49 state line crossing and the Bella Vista Bypass is the second," said Green. "We are making progress and that should be important to everyone in Texarkana."
Green and members of the I-49 Coalition attended Thursday's opening. While the 19-mile stretch may sound insignificant, it is important. It is expected to move 10,000 vehicles a day off U.S. Highway 71, which, if nothing else, creating a safer stretch of roadway.
U.S. 71 has a long-time reputation and a tough road to navigate. Arkansas Transportation Department expects almost all commercial traffic to use the bypass, as many as 4,000 tractor-trailer rigs a day.
"This highway, yes, it's going to be a lot safer," said Parson at the ribbon cutting. "Yes, it's going to be more convenient. But I guarantee, it'll also drive the economy of both our states because it'll be the opportunity, and you will see business follow this interstate."
The bypass began in early 2011, and was constructed in six parts. Total cost of this high-priority corridor was $220 million.
"While this won't guarantee we'll continue to prosper in the future, it sure means we're not going to stymie the growth we already have," Hutchinson said Thursday.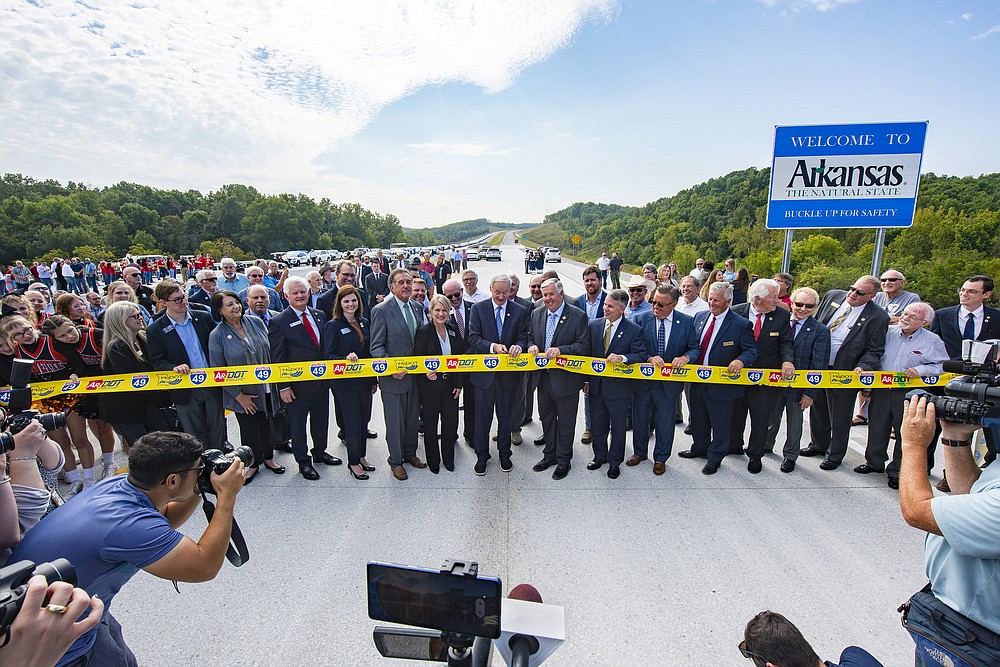 Photo courtesy of the Interstate 49 International Coalition Another piece of the Interstate 49 puzzle fell in place Thursday morning when governors of Arkansas and Missouri, Asa Hutchinson and Mike Parson, respectively, cut the ribbon and opened the $220 million Bella Vista bypass in Northwest Arkansas and the Missouri border.