LAST WEEK: The Razorbacks fell to Hot Springs Lakeside, 31-7.
THIS WEEK: Arkansas High (1-4, 0-3 Conference 5A-South) has a bye week.
OFFENSIVE STANDOUTS: QB Layton Lammers threw for 73 yards on six completions and RB duo Kyron Young and Marjaevion Cummings combined for 69 yards. Logan Williams recorded the Hogs' only touchdown with a 9-yard run in the fourth quarter.
DEFENSIVE STANDOUTS: Logan Williams and Christian Torres finished with team-high six tackles each. Torres and Tystan Powell had one sack apiece and Shitez Wilkerson forced a fumble that Rickie Williams recovered.
COACH BARRY NORTON'S COMMENTS: "We have young players," Norton said. "We have an extra week to prepare before our next game against Hot Springs, so we will focus on getting better. ... We will work and prepare for the next game where we hopefully get a win and get back on track to make the playoffs.
"We will have to be ready to play (against Hot Springs) because we need wins to get into the playoffs, which is where we want to be."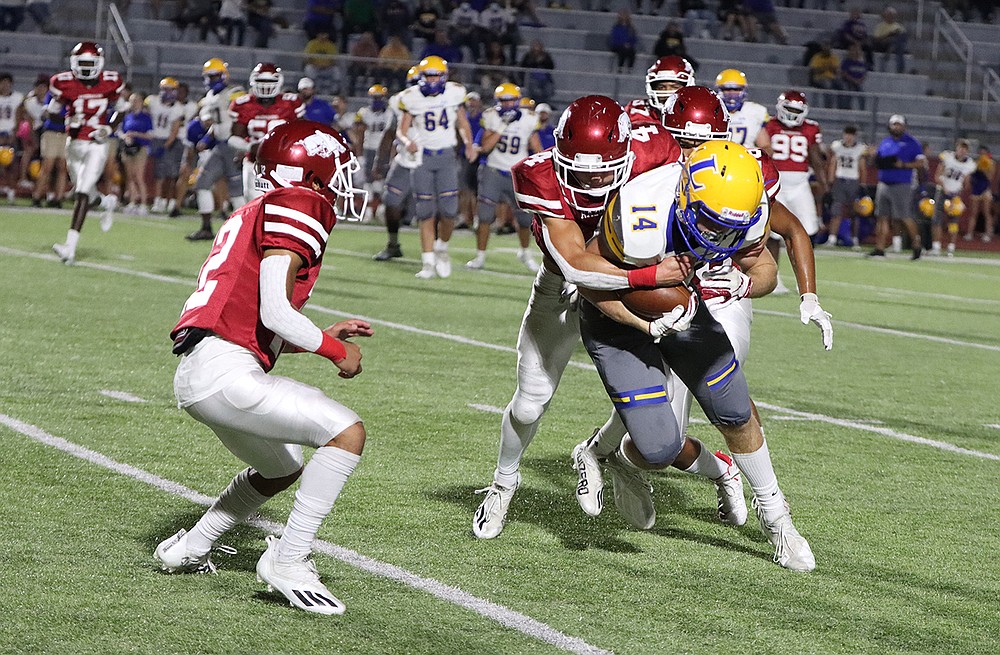 Arkansas High's Logan Williams attempts to bring down Lakeside's Skylar Purifoy during Friday's game at Razorback Stadium in Texarkana. (Photo by Melanie Allen)