TEXARKANA, Texas -- Texarkana College honored the memory and legacy of the late Dr. Shirley Finn, RN, former nursing faculty member, director and division chair of TC's Health Occupations Division, during a ceremony held on campus and attended by close friends and Finn family members Wednesday morning.
As part of the ceremony, Texarkana, Texas, Mayor Bob Bruggeman proclaimed Oct. 13, 2021, as Dr. Shirley Finn, RN, Day in Texarkana.
TC dedicated the nursing skills lab located in the Patterson Health Sciences Building to the memory and legacy of Finn. President Dr. Jason Smith said the lab serves as the primary learning environment where nursing students learn and practice life-saving skills.
"We felt like this lab represents the heart of our program, a fitting dedication to Dr. Finn's legacy," Smith said.
In addition, the college installed a mural depicting her lifetime accomplishments located outside the entrance to the lab. TC announced the advancement of the endowed Dr. Shirley Finn, RN, memorial scholarship through the TC Foundation, which will serve as TC's most prestigious nursing scholarship for vocational or associate degree nursing students.
An honor cord will be awarded to recipients of the scholarship upon graduation.
A memorial tree was also planted on the west side of the Health Sciences building as a symbol of her service to the college and her legacy as TC's 2002 Distinguished Faculty Honoree.
"From a young age, Shirley was a visionary leader who advocated for the rights of women and minorities during a time when it was difficult to break through barriers," Smith said. "She was the first African American nurse to work in Wadley Hospital's operating room, and the first minority female hired as a faculty member at Texarkana College in 1966. During her tenure, Shirley excelled as an instructor by establishing high academic and professional expectations for students. In 1975, TC President Dr. Carl Nelson promoted Shirley to Director of the TC School of Nursing, and Chair of TC's Health Occupations Division. This was the first time in the history of the college that a female, or a minority, served as a member of TC's leadership team."
Finn was raised in Elizabeth City, NC, before moving to Texarkana with her husband Edwin Finn in 1963. This is when Finn began to use her impact in the nursing community to promote and activate change through countless efforts.
Dr. Finn passed away in 2013, but her legacy did not stop then.
Many friends, family members, former colleagues and witnesses to Finn's historic career and life spoke during the ceremony.
One of these speakers was Dr. Denzer Burke, who spoke as a friend of the Finn family. Burke highlighted the hope Finn provided to those who needed it most during turbulent times in the community.
"When Dr. Finn came to Texarkana, she found a fairly peaceful community," Burke said. "However, this facade was shaken when this black, registered nurse was employed at Wadley Hospital, Texarkana Independent School District and especially at the Miller County Health Unit. There she encountered subtle and, often overt, discrimination. This prompted Dr. Finn, as she encountered these occasions, to become a quiet, soft-spoken agent of change in our community -- because it was important to her that she was able to care for the healthcare needs of all patients who needed her services.
"Dr. Shirley Finn's life mattered, and we are all better for her having lived among us."
Dr. Jim Presley, a distinguished author and friend of Finn, said her life philosophy was evident to all who met her.
"If Shirley were with us today, she would emphasize the philosophy that underscored everything she taught her students that they should never forget," he said. "The most important person in healthcare is the patient, she said, whether in the operating room, ward or home. That was my friend Dr. Shirley Sharp Finn. And that, folks, is why we're gathered here today to commemorate her life and work. May her light shine evermore to guide the future nurses who pass this way where she once lived, served, led and inspired."
Jason Smith recalled when the Finn family contacted the college last year to determine why the memorial tree and plaque honoring Shirley Finn had been removed, which eventually led to this day being possible.
"I remember when I got the phone call from (Suzy Irwin) that the memorial tree and plaque that we had for your mom had been removed because we had new construction going on," Smith said. "And I thought, 'Oh my goodness, how could we let that happen?'
"But you know, I think it's been a blessing. Because how many people have learned about the legacy of Shirley Finn because of that? I didn't know her legacy. I do now. And hundreds and hundreds of other people and more will know now because of that."
Michael Finn, son of Shirley and Edwin, thanked the college and a slew of people during his soliloquy. He read a message from his father, who was present but watching the tribute from a separate room, about how much he appreciated those who made this moment come to fruition.
Michael said his mother was a lot of different things for a lot of different people, but most of all, she was a beautiful person inside and out.
"My family and I want to thank you all for allowing us to finally bring mom home," he said. "She worked her whole life. She loved this place, she loved this city and she loves this family. And now, finally, she's home."
(For more information and to view a stream of the event and the Dr. Shirley Finn, RN, online gallery, go to texarkanacollege.edu/dr-shirley-finn-legacy online. To make a donation to the Dr. Shirley Finn, RN, Memorial Scholarship fund, please contact TC Foundation's executive director, Katie Andrus, or go to texarkanacollege.edu/foundation/.)
In 2002, Dr. Shirley Finn was honored as the Distinguished Faculty Honoree with the planting of a tree. As a tribute to Dr. Finn, a new tree was planted at the new home of the TC Health Sciences division. Dr. Finn's tree can be found on the west side of the Health Sciences and Media Center buildings. (Photo courtesy of Suzy Irwin/TC)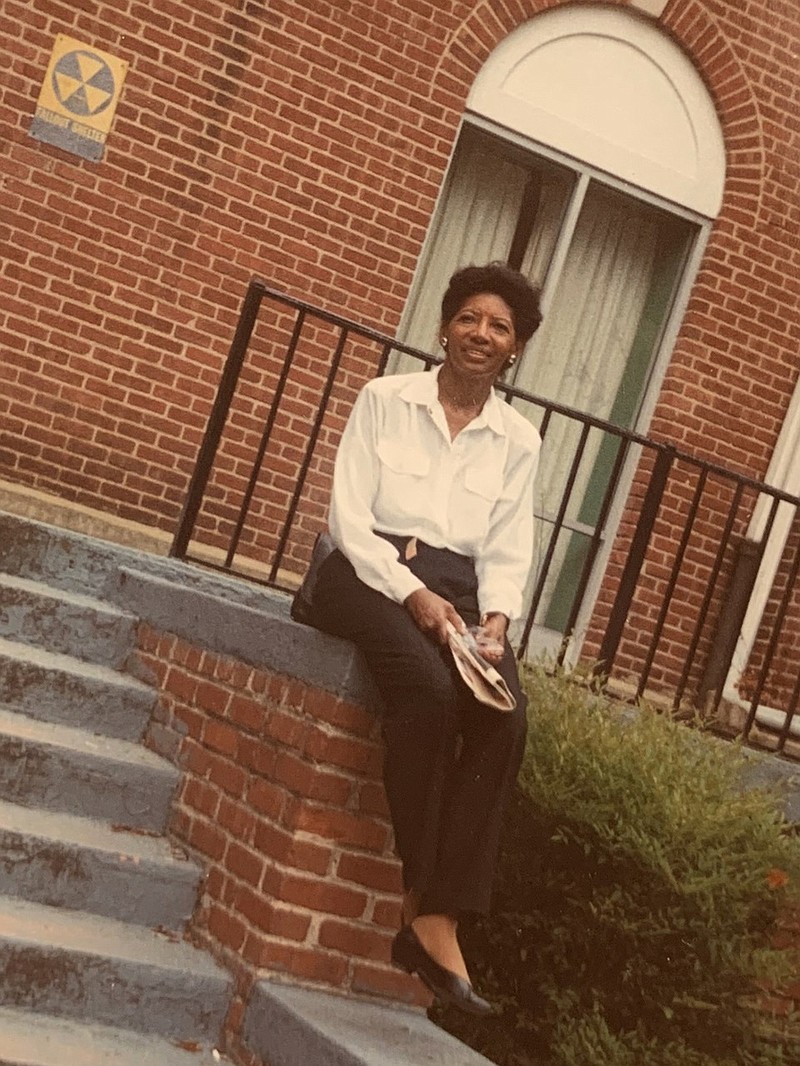 Dr. Shirley Finn (Photo courtesy of Suzy Irwin/TC)