PHOTO | That Warm Holiday Feel
November 24, 2022 at 10:00 p.m.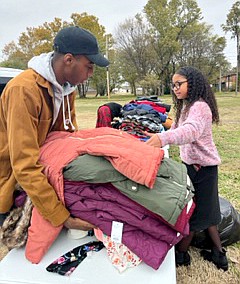 Jonathan Birl, left, and Ember Martin sort coats during the inaugural Landmark Pentecostal Church coat giveaway Saturday, Nov. 19, 2022, in a vacant lot near Texarkana Public Library in Texarkana, Texas. The drive was organized by Landmark at the urging of pastor Jason Calhoun. The congregation, which meets at 1601 Mall Drive, collected the coats through donation boxes placed in the church's lobby and Event Center and the Elite Academy. About 100 coats were distributed during the giveaway, which was from 11 a.m. to 2 p.m. Remaining coats were given to Mission Texarkana. Golden Corral donated a soup meal for the event. (Submitted photo)
TEXARKANA, Texas -- Landmark Pentecostal Church holds community coat drive.
Print Headline: PHOTO | That Warm Holiday Feel
Sponsor Content