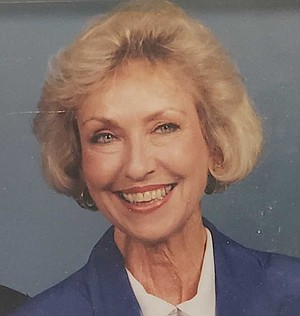 Betty Jane Cox, 85, of Texarkana, Ark., died Wednesday, April 18, 2018, at a local hospital.
Mrs. Cox was born Aug. 28, 1932, in Wilton, Ark. She was an interior designer; member of First United Methodist Church, Arkansas, May Dale Garden Club and New Covenant Sunday School Class; and an American Heart Association volunteer. She was preceded in death by her husband, Banks Lee Cox Jr.
Survivors include one daughter, Cathy Cox Lee of Texarkana, Texas; one grandson and granddaughter-in-law, Banks and Sidney Lee of Orlando, Fla.; two great-grandchildren, Spencer Lynn and Oliver Elias; one sister, Frances Dew; and a number of nieces and nephews.
Memorial services will be 11 a.m. Tuesday at First United Methodist Church with the Rev. Jaimie Alexander officiating. Arrangements are under direction of Texarkana Funeral Home, Arkansas.
Memorials may be made to First United Methodist Church, 400 E. Sixth St., Texarkana, AR 71854.