VERNA McCRARY
August 23, 2018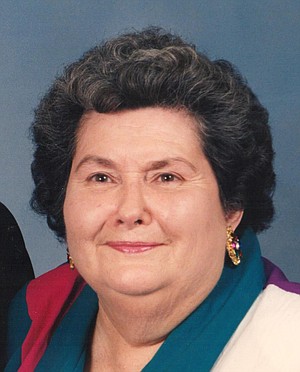 NASHVILLE, Ark.—Verna Marie McCrary, 88, of Nashville died Tuesday, Aug. 21, 2018, in Little Rock.
Mrs. McCrary was born Sept. 12, 1929, in Howard County, Ark. She was a member of Gideons, Southern Farmers Association, Dairymen's Association and a Sunday School teacher and Temperanceville Baptist Church. She was preceded in death by her husband, James Matthew McCrary; and one son, Carl Owens McCrary.
Survivors include five children, Camellia McCrary Lambert of Germantown, Tenn., Belinda McCrary Hussey and Virginia "Ginger" McCrary Primm of Alexander, Ark., Debra McCrary Fischer of De Queen and James Paul McCrary of Rockport, Texas; one sister, Louise Hodges of Moore, Okla.; one brother, Harold Cornish of Marshall, Texas; 17 grandchildren; and a number of other relatives.
Services will be 1 p.m. Saturday at Temperanceville Baptist Church with Calvin Parker, Chance King, Bobby Fischer and Kyle Fischer. Burial will be in County Line Cemetery under direction of Latimer Funeral Home.
Visitation will be 6 p.m. to 8 p.m. Friday at the funeral home.
Online registration is at latimerfuneralhome.com.