Ramona Culpepper
August 27, 2018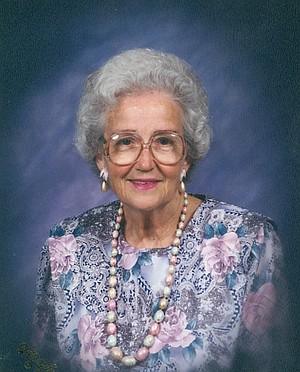 Ramona Culpepper, 89, of Redwater, TX, died Saturday, August 25, 2018, at her home. She was born December 23, 1928, in Bowie County, TX. After almost 40 years in the banking industry, she retired from N.A.F. in order to stay home and keep grandchildren. She was a member of Redwater United Methodist Church where she served many years as church treasurer and Sunday School teacher. She was preceded in death by her husband Joe W. Culpepper.
She is survived by her daughter, DiAnn Bransford; two grandchildren, Haley Bransford and John Bransford, all of Redwater; two special friends, Mary Holt and Doris Shields; a beloved companion, Sadie; and a number of nieces and nephews.
Funeral services will be held at 10:00 A.M. Tuesday, August 28, 2018, at Chapelwood Funeral Home Chapel, with the Revs. Ronnie Pipes and Doris Shields officiating. Burial will follow in Redwater Cemetery.
The family will be at the home of DiAnn Bransford in Redwater, and will receive friends from 5-7 P.M. Monday, August 27, 2018, at Chapelwood Funeral Home.
Memorial contributions may be made to Redwater Cemetery Association, PO Box 393, Redwater, TX 75573.
Online registration is at
www.chapelwoodfuneralhome.com.