EMMETT BAKER
December 22, 2018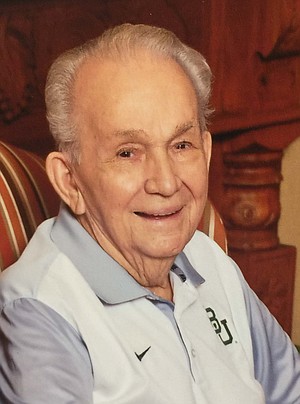 NAPLES, Texas—Emmet Lamar Baker, 93, of Rockwall, Texas, died Wednesday, Dec. 19, 2018, in Rockwall.
Mr. Baker was born Sept. 27, 1925, in Tampa. He was formerly employed by J.C. Penney and the Dallas Morning News, and a member of Casa View Baptist Church and Shiloh Terrace Baptist Church. He was preceded in death by his wife, Sammie Baker.
Survivors include two daughters and one son-in-law, Nan and Phil Ketcham of Heath, Texas, and Sherry Baker of Round Rock, Texas; three grandchildren and one spouse, Lauren Baker, William Batten and Richard and Jaymie Batten; two great-grandchildren, Jay and Hank; and a number of other relatives.
Graveside services will be 10 a.m. Saturday at Omaha Cemetery, Omaha, Texas. Memorial services will be in Shiloh Terrace Baptist Church, Dallas, Texas, under direction of Harrison Funeral Home.
Memorials may be made to Shiloh Terrace Baptist Capital Fund or Baylor University's Louise Herrington School of Nursing.