Syble E. Simpson
July 24, 2018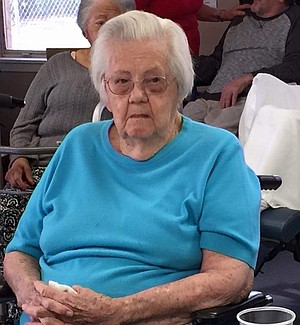 DeKALB, Texas—Syble E. Simpson, 96, of DeKalb died Sunday, July 22, 2018, in a Texarkana, Texas, hospital.
Mrs. Simpson was born March 13, 1922, in Woodland, Texas. She was a retired warehouseman at Red River Army Depot and a member of First Baptist Church, DeKalb. She was preceded in death by her husband, George Lee Simpson Sr.; two sons, George Lee Simpson Jr. and Larry Simpson; one grandchild, Chris Simpson; one great-grandchild, Luke Simpson.
Survivors include four sons and daughters-in-law, Norman Simpson of New Boston, Texas, David and Judy Simpson of Clarksville, Texas, Terry and Becky Simpson of Maud, Texas, and Paul and Terri Simpson and Gail Simpson of Mesquite, Texas; 14 grandchildren; 21 great-grandchildren; two great-great-grandchildren; and a number of other relatives.
Services will be 2 p.m. Wednesday at Bates Family Funeral Home with Robby Bates officiating. Burial will be in Ringwood Cemetery, New Boston, Texas.
Visitation will be from 1 to 2 p.m. Wednesday at the funeral home.
Memorials may be made to First Baptist Church, DeKalb, or a preferred charity.
Online registration is at
batesfamilyfuneralhome.com.