Angelia Pruitt Jones
March 17, 2018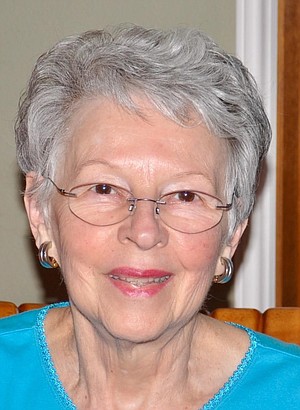 Angelia Pruitt Jones, 84, of Austin, Texas passed away on Friday, March 9th, 2018.
Angelia was born on June 9, 1933 in Kildare, Texas. Shewas a graduate of Kildare High School. Angelia subsequently attended The University of Texas at Austinwhere she received a Bachelor of Business Administration. Upon moving to Texarkana, Texas in 1960, she taught at Texas Senior High School for several years until retiring to focus on raising her children and helping her husband, the late Judge Guy E. Jones, with his legal practice and political career.
Mrs. Jones was very active in many, many charitable and public organizations in the Texarkana area. Among them were the Texarkana Lawyer's Wives Club, where she was a founding member. She was involved with The Greater Texarkana Public Library organization "Friends of The Library", where she organized prominent public speakersand other educational opportunities for the citizens of Texarkana. Angelia was a charter member of "Women for the Arts." She was a member of The American Association of University Women as well as a Life Member of The University of Texas Ex Students Association.
Mrs. Jones was a member of First Baptist Church of Texarkana on Moores Lane. Mrs. Jones was preceded in death by her parents V.S. Pruitt and Clara Ray Pruitt of Atlanta, Tx as well as her sisters, Sandra Pruitt Walker of Port Isabel, Tx and Gwyneth Pruitt of Atlanta, Tx. Mrs. Jones husband of nearly 50 years, the Honorable Judge Guy Edward Jones, passed away on November 14, 2004.
She is survived by her son Geoffrey Jones, his wife Cindy and their 2 children, Grayson and Anna Grace of Texarkana; her daughter Jennifer Jones McGee, her husband Patrick of Austin, Texas and their 3 children, Meredith, Caroline, and Lindy. Angelia's brother Charles Pruitt and his wife Judy of Atlanta, Texas as well as her niece and nephews.
Family will receive friends on Monday March 19, 2018 from 5:30 - 7:30 pm at East Funeral Home on Moores Lane. Funeral service will be held at 2:00 pm, Tuesday, March 20, 2018 at First Baptist Church Atrium on Moores Lane with Randy Brown officiating. Burial will be in Hillcrest Memorial Park under the direction of East Funeral Home Moores Lane.
The family asks that any memorials in Mrs. Jones honor be made to First Baptist Church, 3015 Moores Lane, Texarkana, TX 75503 and The American Heart Association.
Online tributes can be posted at www.eastfuneralhomes.com or East Funeral home facebook page.