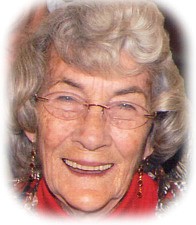 LINDEN, Texas—Lydia A. "Pee-Wee" Harrod, 85, of Linden died Monday, April 30, 2018, in a local nursing home.
Mrs. Harrod was born March 29, 1933, in Marietta, Texas. She was preceded in death by her husband, Edsel Harrod; two sons, Johnny Harrod and Ricky Harrod; and one grandson, Ronald DeWayne Hitchcock.
Survivors include two daughters, Jackie Harrod and Vickie Mathis; one daughter-in-law, Kathi Harrod; one brother, Monroe Keener; one sister, Francis Harrod; nine grand-children; 19 great-grandchildren; one great-great-grandchild; and a number of other relatives.
Services will be 11 a.m. Thursday at New Colony Baptist Church with the Claude Crocker officiating. Burial will be in New Colony Cemetery under direction of Reeder-Davis Funeral Home.
Visitation will be from 10 to 11 a.m. Thursday at the church.
Online registration is at reeder-davis.com.