MYRANDA FINLEY
May 18, 2018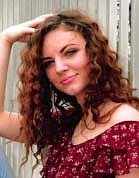 DeKALB, Texas—Myranda Diane Finley, 18, of Naples, Texas, died Monday, May 14, 2018.
Miss Finley was born April 29, 2000, in Baton Rouge. She was a registered CNA, a senior at New Boston High School and a member of the Army National Guard. She was preceded in death by her mother, Shranda Diane Davlin.
Survivors include her parents, Robert and Cindy Finley of Naples; three sisters, Markie Denise Robertson of Foreman, Ark., Brieana Hanson of Paris, Texas, and Tabitha Finley of Naples; one brother, Randale Finley of New Boston, Texas; her grandparents, Richard and Linda Finley and James and Willa Ruth Jaggers of Paris and Edith C. Eubanks of New Boston; and a number of other relatives.
Services will be 2 p.m. Saturday at New Boston High School Auditorium with the Rev. Tommy Burton officiating. Burial will be in College Hill Cemetery under direction of Bates Family Funeral Home.
Visitation will be 6 p.m. to 8 p.m. today at the funeral home.
Memorials may be made to Guaranty Bond Bank, 750 James Bowie Drive, New Boston, TX 75570, account No. 1327449.
Online registration is at batesfamilyfuneralhome.com.