STEVEN RILEY
May 18, 2018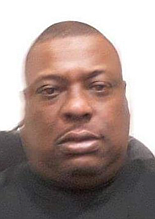 Steven Lewis "Big Steve" Riley, 48, of Texarkana, Texas, died Friday, May 11, 2018, in Texarkana.
Mr. Riley was born Sept. 12, 1969. He was employed with JMC Industries.
Survivors include one son, Malik Allen of Texarkana; one daughter, Taylor Williams of Texarkana; his father, John J. Riley of Texarkana; two brothers, Gary Pree of Texarkana and Thimothy Stuckey of Dallas; and two sisters, Evelyn LaMay of Texarkana and Monica Stuckey of Dallas.
Services will be 2 p.m. Saturday at Richardson Hill Funeral Home with the Rev. Lamarcus Franklin officiating. Burial will be in Chapelwood Memorial Gardens Cemetery.
Visitation will be 5 p.m. to 7 p.m. today at the funeral home. The body may be viewed 1 p.m. to 2 p.m. Saturday at the funeral home.