Ora Lee Kendrick Brown
October 18, 2018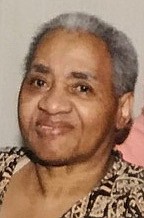 Ora Lee Kendrick Brown was born on November 6, 1934 in Atlanta, Arkansas. After graduating from Walker High School in Magnolia, AR, she moved to Chicago where she received her nursing degree.
Soon life circumstances led Ora on a new path and she relocated to Texarkana, AR in 1959 to live with her parents. She enjoyed a full life and showered an abundance of love and sound teachings on her nine nieces and nephews. Throughout her life she maintained a strong commitment to family and remained a faithful member of Walker Chapel CME Church. On Tuesday, October 9, 2018, Ora slipped peacefully away at the Arkansas Nursing and Rehabilitation Center at the age of 83, just a few weeks shy of her 84th birthday.
She leaves behind her sister, Bessie Bradford (AZ), brother Lovell Kendrick (CA), two brothers-in-law Harlan Bradford, Sr., (AZ) and Josepheus Russ (AR), an uncle, Fulton Walker (AR), nine nieces and nephews, one step-nephew, and a host of relatives and friends.
Celebration of life service will be held for Ora on Saturday, October 20, at Walker Chapel CME Church, 2425 East 14th, Texarkana, AR at 11AM. The viewing will be held at Lyles Funeral Home, 3809 East Broad, Texarkana, AR, on Friday, October 19 from 4pm to 6pm.
The family requests that in lieu of flowers, contributions be made to Walker Chapel CME Church in honor of Ora Lee Kendrick Brown.