DIANE GREEN
October 27, 2018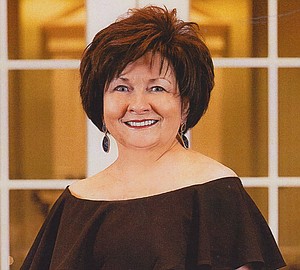 Susan Diane Bell Green, of Texarkana, Arkansas, passed away after heart surgery complications. The 67 year old Foreman, Arkansas native departed this life on October 22, 2018 at a Little Rock hospital surrounded by her family. Heaven got another angel !!
Diane was born in Ashdown, Arkansas on October 15, 1951. She was the oldest daughter of Charles Edison "Eddie" and Connie Kent Bell, and sister to two siblings.
Diane graduated from Foreman High School in 1969. She attended Southern Arkansas University and received her Bachelor's Degree in Education. After teaching for a few years and starting a family, Diane attended night school at Texarkana A&M University and received her Master's Degree in Education. She taught Kindergarten at Carver Kindergarten and Trice Elementary for 32 years. Diane worked at being the best teacher she could be and cherished her students. She was told often by former students and parents that she was the " Best Teacher " they ever had. Diane loved to visit with her former students.
Diane had a " zest " for life. She enjoyed a simple lunch or dinner with family or friends or Game Nights with her girlfriends. Entertaining at her home, hosting charity events or just loaning her party items for other events made her happy. She was party central to her friends. She wasn't known for her cooking but she knew the right friends and caterers to create a magnificent gathering. She and Curt traveled the world whether alone or with a special group of friends that she loved dearly. Her best times were spent with her children and grandchildren. No one enjoyed shopping, reading (retired teacher), attending school and church activities, traveling or just " How was your day" chit chats with her grandchildren more than Diane. The grandchildren loved when their " Di " came for a visit.
After retiring from teaching, Diane turned her attention toward community involvement. In working to help our community, Diane's participation included: Opportunities, Inc (Foundation Board), Women for A&M ( Board of Directors ), Casa Women of Hope & Courage, Clay Eichler Memorial Fund, American Heart Association, TRAHC Women for the Arts, Junior League of Texarkana ( Sustainer ), May Dale Garden Club, Arkansas Women for Education ( TASD ), Patron of Texarkana Symphony Orchestra and the Arklatex 100 Club. She made new friends in every organization in which she was involved. Diane attended Sugarhill Methodist Church.
Diane was preceded in death by her father Charles Edison " Eddie " Bell. She is survived by her husband & best friend, Curt Green; her daughter Whitney Green Elmore ( Stefan ), her son John Clayton " Clay " Green ( Meg ); four grandchildren, Greenlee Elizabeth Elmore, Phoebe Kent Elmore, McCoy Elouise Green and Coltrane " Colt " Edison Green; her mother, Connie Kent Bell; siblings, Karen McElhannon ( Bill ) and Kent Bell; nephew, Chad McElhannon and niece, Lindsey McElhannon.
Diane loved to be surrounded by her family and friends. She adored her husband of 42 years, Curt Green, and worshipped her children and grandchildren . She was a great wife, caring mother and friend to everyone. Diane will be missed by all those who knew her.
In lieu of flowers and food, the family request memorials be made for Diane to one of the following: Water Springs Ranch(waterspringsranch.org), Opportunities, Inc. (oppinc.org) or the Arklatex 100 Club
(thearklatex100club.org - benefiting local police and firefighters).
Visitation will be Friday, October 26, 2018 from 6:00 to 8:00 pm at the Cabe Center at the First United Methodist Church 400 E. 6th Street, Texarkana, Arkansas with the Memorial Service on Saturday,
October 27, 2018 at 11:00 am at the First United Methodist Church with Rev. Greg Burks officiating.
Services are under direction of East Funeral Home-Moores Lane.
Online tributes may be made at www.eastfuneralhomes.com.