JOAN PHILLIPS
October 27, 2018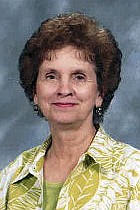 CLARKSVILLE, Texas—Joan Phillips, 81, of Lone Star community, Texas, died Thursday, Oct. 25, 2018, at her home after a lengthy illness.
Mrs. Phillips was born Jan. 3, 1937, in Fulbright community, Texas. She was a business office secretary with Clarksville ISD and a member of Church of Christ. She was preceded in death by her husband, Jack E. Phillips; and two grandchildren, Ashley Wilburn and Ryan Phillips.
Survivors include five children and four spouses, Beverly and Marty Sustaire and Jack Baxter Phillips of Paris, Texas, Marsha and Randy Brown of Mount Pleasant, Texas, Eddie and Cathy Phillips of Lone Star community and Benjamin and Tiffany Phillips of Blossom, Texas; one brother, Charles Skaggs of Bogata, Texas; nine grandchildren; six great-grandchildren; and a number of other relatives.
Services will be 2 p.m. Sunday at Fulbright Church of Christ with Evan Butler and Keith Bollman officiating. Burial will be in Lone Star Cemetery under direction of Clarksville Funeral Home.
Visitation will be 4 p.m. to 6 p.m. today at the funeral home.
Memorials may be made to Red River Valley Down Syndrome Association, P.O. Box 6455, Paris, TX 75461; Susan G. Komen Cancer Research Center Department 41831, P.O. Box 650309, Dallas, TX 75265; or Alzheimer's Foundation of America, 322 Eighth Ave. 7th Floor, New York City, NY 10001.
Online registration is at clarksvillefuneralhome.com.