JESSIE LINCOLN
August 5, 2022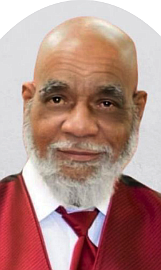 Jessie Lewis Lincoln, son of Bobby and Eddie Lincoln, Sr. was born in Atlanta, Texas on November 21, 1956. Jessie graduated from Atlanta High School. He attended St. Paul C.M.E. Church in Atlanta. Jessie worked for the city of Atlanta, International Paper Mill and Walmart where he was affectionately known as "Uncle Jessie" by his co-workers, customers, and friends.
On July 29, 2022, Jessie accepted his call home from the Lord. Jessie was preceded in death by his twin sister, Essie Lincoln and brother Bobby Lincoln Jr.
Services will be held on Saturday, August 6, 2022 at St. Paul CME Church at 11:00 A.M., 412 John Street, Atlanta, Texas, with Richard Tennison, officiating. Visitation will be held at St.Paul CME Church from 1:00 P.M. to 5:00 P.M.
Those left to celebrate and honor his memory include-his parents, Bobby and Eddie Lincoln Sr., of Atlanta, Texas; daughters, Reshetia Richardson, of Forney, Texas and Shaneka (Chris) Richardson Gray of Atlanta, Texas; 11 grandchildren; brother Lewis (Pamela) Lincoln of Atlanta, Texas; nephews, Jared Lincoln of Conway, Arkansas and Bobby Jamaal (Keondra) of Atlanta, Texas; niece Brittany Lincoln, of Dallas, Texas; aunt, Margie Booth, of Dallas, Texas; uncle, Sandy Johnson, of Austin, Texas; as well as a host of treasured relatives and friends.