DORETHER WEAVER
July 14, 2022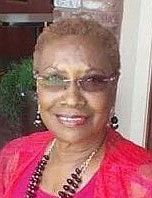 Dorether Weaver, 78, of Hooks, Texas died Saturday, July 2nd in her home. Mrs. Weaver was born March 16, 1944 in Vicks, Arkansas. She was a Printing and Shipping Administrator at Red River Army Depot and a devoted member of Leary Chapel Baptist Church, where she served as a Sunday school teacher, the Usher Board and in housekeeping.
Survivors include two daughters, Jacqueline Michele Martin of Texarkana, Texas and Veronica Monique Ford of Houston, Texas; one son, Kipchoge Ali Gilmore of Houston, Texas; three sisters, Hazella Welch of Nash, Texas, Gennetta Smith of Texarkana, Texas and Emma Godfrey of Hooks, Texas and one brother Marlin Martin of Lakewood, California, five grandchildren, four great-grandchildren and several more loved one, relatives and friends.
The memorial service for Mrs. Weaver will be held at 11:00 a.m. on Saturday, July 16th at the Leary Chapel Baptist Church with the Rev. Kenneth Thornton officiating under the direction of Haynes Mortuary.
Online registration is available at haynesmortuary.com.