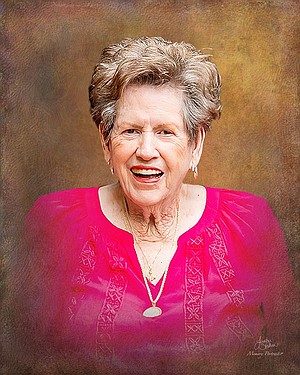 Doris Helen Orr of Shreveport, LA known as "MiMi" by all her family, passed away peacefully in the early morning of Friday, June 3, 2022 at the age of 92. She was born November 1, 1929 to Oval Griffin and Mildred Griffin in Queen City, Tx.
On May 8, 1967 Helen married Charles Orr, and they moved to Shreveport with their children. She spent the remainder of her life in Shreveport. They were both dedicated to raising their family and their family business. In 1979, Helen and her husband broke ground on Pro Car Wash in Bossier City. Together they grew their business into three more location continuing to serve our Shreveport-Bossier area for over 37 years. Helen was a devoted homemaker, pediatric nurse as well as a business partner. Mimi had a gift for caring for others. She worked for over 30 years as a pediatric nurse serving in Dr. A.L. Wedgeworth's office in Shreveport before retiring to care for her grandchildren. She was a fantastic cook. If you walked into MiMi house she had food ready for anyone. No matter the time of day, her kitchen table was always open not just for eating, but for having deep conversations and a ton of laughs. She was a life-long member of First United Methodist Church.
Helen was preceded in death by her husband of 51 years, Charles Orr, daughter, Anna Beth Thomas, brothers, Wayne Griffin and Kenneth Griffin, son-in-law, Gary Wyatt and special brother-in-law, Lawrence Orr.
Helen is survived by her son, Rusty Beck and wife Barbara, daughter, Nancy Wyatt, grandchildren, Jennifer Hawthorne, Alisha Smith and husband Scott, Derrick Thomas and wife Whitney, Jessica Thomas Jester and husband Matt, great grandchildren, Haley, Hunter, Sydney, Wyatt, Lilly, Lukas, Lowery, Thomas and Molly and special sisters-in-law, Francine Orr and Pat Conner.
A visitation for Helen will be held Tuesday, June 7, 2022 from 10:30 AM to 11:30 AM at Centuries Memorial Funeral Home, 8801 Mansfield Road, Shreveport, Louisiana 71108, followed by a celebration of life at graveside at 11:30 AM. Officiating the service will be Dr. Carl Rhoads of First United Methodist Church.
In lieu of flowers, contributions in Helen's memory may be made to Alzheimer's and Dementia Association.