LOUISE BURSON
June 9, 2022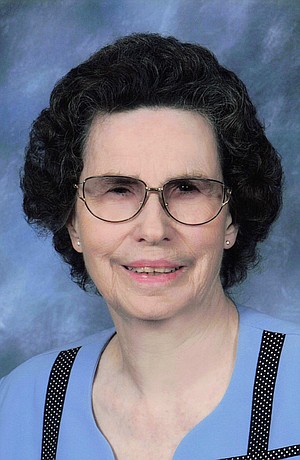 Louise "Honey" Burson, 92, of Atlanta, Texas passed away at home on Wednesday, June 8, 2022. Even though a failing heart took her from this world, her loving heart left a beacon of light for all who knew her.
Born to Ruby and William "Bud" Hammock on June 20, 1929, Louise grew up outside of Linden, Texas in the Red Hill Community. After graduating from Linden High School, she attended business school in Tyler, Texas. She married the love of her life, Royce L. Burson of Atlanta, Texas on June 1, 1947. Louise and Royce spent over 20 years in Brownsville, Texas, where they raised their two children, Kyle A. Burson and Paula B. Fitts.
For more than 50 years, Louise worked as a legal secretary for various lawyers, including 34 years at Jeff Mays Law Office in Atlanta, finally retiring at the age of 86. She was a faithful member of Piney Grove Baptist Church and was always available to cook and/or bake for any church function.
Louise is preceded in death by her parents, Ruby and Bud Hammock; her husband, Royce; her son, Kyle; and her brother and sister-in-law, W.T. and Edith Hammock. Left to cherish her memory are, her daughter, Paula Fitts and husband Steve; granddaughter, Jessica Deel and husband, Travis; grandson, Justin Fitts and wife, Brooke; great-grandchildren, Trevor Deel, Kylie Deel, and Dawson Fitts; and daughter-in-law, DeAnn Burson Robinson.
Funeral services will be held at 10:30 A.M. on Saturday, June 11, 2022 at Piney Grove Baptist Church in Atlanta, Texas. Burial will follow at Laws Chapel Cemetery under the direction of Hanner Funeral Service.
Prior to the service, there will be a visitation from 9:30-10:30 A.M. at the church.
In lieu of flowers, donations may be made to Piney Grove Baptist Church, 3268 TX Hwy 77 West, Atlanta, TX 75551 or to a charity of your choice.
Guest registry is available at www.hannerfuneralservice.com.