TOM CARLTON JR.
June 9, 2022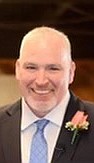 Dr. Tommy James Carlton Jr. "Tom", age 57, of Texarkana, Arkansas passed away on Tuesday, June 7, 2022, in an Oklahoma hospital while working.
Dr. Carlton was born on March 16, 1965, in Fort Smith, Arkansas, to his parents Tommy Carlton Sr. and Betty Hatridge Carlton Eddings. He was a member of the Hickory Street Baptist Church, where he taught the Men's Sunday School class. Tom was a 2013 doctoral graduate of New Orleans Baptist Theological Seminary.
Tom is preceded in death by his father Tommy Carlton; and one daughter, Lauren Elizabeth Carlton.
Left to cherish his memory is his loving wife of 38 years, Elizabeth "Beth" White Carlton of Texarkana, Arkansas; two children, Mary Carlton Stanfield and husband Josh of Derby, Kansas, Rachael Carlton Baldwin of Texarkana, Arkansas; grandchildren, Elizabeth Ruth Stanfield, Hannah Grace Baldwin, and baby Jamie Deanne Stanfield due in August; his parents Betty Carlton Hatridge Eddings and Clyde Eddings; his sister Cindy Carlton of Texarkana, Arkansas; along with numerous nieces, nephews, and great nieces, great nephews; and a host of family and friends.
Funeral services will be held at 2:00 P.M. Saturday, June 11, 2022, at Texarkana Texas Funeral Home with Bro. Tim Strebeck and Dr. Randy Hales officiating. Burial will follow at Oak Hill Cemetery in Ashdown, Arkansas under the direction of Texarkana Texas Funeral Home located at 3515 Texas Blvd. Texarkana, Texas 75503.
Visitation will be held prior to the service starting at 12:30 P.M.