JIMMIE EMERSON
June 11, 2022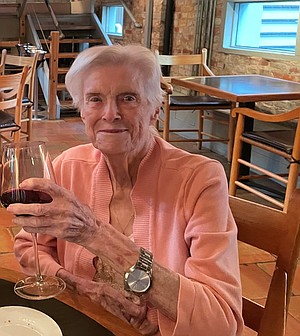 Jimmie Emerson, aged 92, formerly of Texarkana, passed away on Wednesday, June 1, 2022 in San Antonio, Texas.
She was born on July 30, 1929 to Harvey and Eunice Thomas in Arkadelphia, Arkansas. She graduated from Arkadelphia High School in 1947 and worked as a telephone operator. She met the love of her life, Robert Archie Emerson, at the local movie theater and married him on June 11, 1956. That love led to two children, Lance and Lori.
A quintessential mother of the 60's and 70's, Jimmie did it all. She was an assistant scout leader in both the Boy and Girl Scouts, received a lifetime membership to the local PTA, was a Texas High Tiger band booster and chaperone, and was admired family-wide for her cooking and baking. Jimmie was also an excellent seamstress, making all of Lori's clothes as she grew up. She was a lifelong Methodist.
Jimmie is preceded in death by her husband Archie and son Lance.
Besides an ancient Singer sewing machine and lots of fabric, she is survived by her daughter Lori and son-in-law John Tarnow, grandchildren Chelsea Louise Jean and husband Austin Hall, Austin Robert Jean, Jessica Deann Frazier-Emerson, Noah Thomas Tarnow, and bonus grandchildren Kristen, Lauren, Matthew and great-grandchild Charlotte.
Graveside services will be held on Wednesday, June 15th, at 11am at Odd Fellows Cemetery in Lockesburg, AR.