MILDRED BURNS
June 15, 2022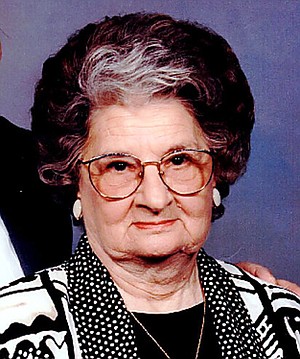 Mildred Katherine Burns, age 95, of Pittsburg, passed away Sunday, June 12, 2022. Mildred was born on August 1, 1926, to James Ruf Henderson and Ima Mae Craig Henderson. She married Sam Burns, and together they raised two children.
Mildred is survived by her son Danny K. Burns; daughter, Teresa Ann Gholston; five grandchildren: Tausha Renee Carlson, Blake Daryn Burns, Bradley Burns, Lance Christopher Gholston; and Collin Ryan Gholston and great-grandchildren, numerous nieces, and nephews.
Mildred is preceded in death by her parents and husband Sam J Burns.
Funeral services will be held at 11:00 am Friday, June 17, 2022, at Erman Smith Funeral Home Chapel in Pittsburg with interment to follow at Ebenezer Cemetery. There will be a visitation held before the service beginning at 10:00 am at the funeral home. Funeral service will be live streamed from Erman Smith Funeral Home Facebook page.