Clarance and Rae Sampson
June 16, 2022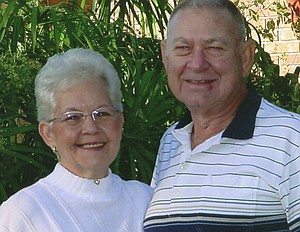 Our beloved parents, Clarance Arlin Sampson and Rae Jean Sampson, passed away after 60+ years of marriage. Clarance, 89, passed away on Monday, June 13, 2022, and Rae, 85, followed him in death less than 24 hours later on Tuesday, June 14, 2022. They were both struggling with health issues, but lived full and happy lives.
Clarance was born to Roy R. Sampson and Mable Howard on November 12, 1932, in DeKalb, Texas. After high school, Clarance served in the United States Army as a cable splicer. Upon leaving the Army, he moved to El Paso, where he married, had children and worked for the telephone company. After the dissolution of his marriage, he moved to East Texas to be closer to family, where he was set up on a blind date with a pretty brunette named Rae Jean.
Rae was born to William L. Robertson and Delores Opal Holt on April 1, 1932, in Pruitt, Arkansas. After high school, she married, moved to California, and started a family. After her divorce, she moved to Linden, Texas, to be closer to family, where — you guessed it — she agreed to go out on a blind date with a handsome man named Clarance. And the rest, as they say is history.
Rae told anyone who would listen that when she got home after their first date, she told her mother: "I'm going to marry that man". And she did! With the birth of a daughter to balance things out (three boys and three girls), Clarance and Rae set about the task of molding two separate families into one strong, precious family. They never missed a family reunion, and Clarance's laughter was always the loudest at the domino table. Rae's cooking was always in demand, and Clarance's hugs were considered the best in the world.
Clarance and Rae were preceded in death by one son, Gary Sampson, and two daughters Susan Sampson and Patricia McDaniel. They leave behind one daughter Cheryl Hale and husband Nathan Hale of New Boston, Texas; and two sons: John Sampson and wife Paula of League City, Texas, and Rick Sampson of Fort Worth, Texas. Survivors also include two brothers: Ed Sampson and wife Linda of Channelview, Texas, and Dan Sampson of Pasadena, Texas; two grandsons: Cody Harwell and Adam McDaniel, of Kaufman, Texas; one granddaughter: Tiffany Cruz, of Kaufman, Texas; and a host of other family and friends.
Visitation is scheduled at Bates Rolf Funeral Home for Saturday, June 18, at 9:00 a.m., followed by a service in the chapel at 10:00. A brief graveside service will be held at Wards Creek Cemetery, in Simms, Texas.
Online registration may be made at www.batesrolffuneralhome.com.