ESTELLA COOK FRENCH
June 16, 2022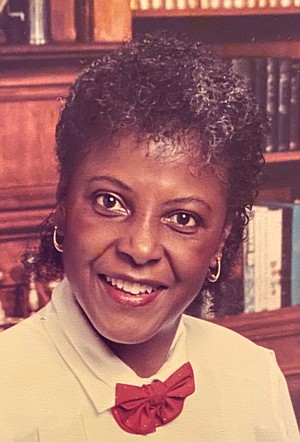 Mrs. Estella Cook French was born on February 20, 1940 to the late Ulysses Cook Sr. and Nevada Ruffin Cook in Wilton, Arkansas.
She graduated in 1959 from the Little River County Training School. She and her twin sister Rosella Garrett were basketball players on the L.R.C. (Eaglettes) basketball team. She served as a faithful usher and Sunday school teacher at Community Freewill Ministries. Estella had a contagious smile that would light up a room. She worked as a CNA at Little River Memorial Nursing Home and enjoyed cooking, attending church, and family gatherings.
She was preceded in death by her husband, George Washington French.
Survivors includes one daughter, Marian (LC) Morris of DeQueen, AR; Three grandchildren, Lexie Bimansha, Ashdown, AR, Darious Morris, Springdale, AR and Audrey Cellers, New Boston, TX; Three sisters, Rosella (Henry) Garrett, Ashdown, AR, Rita (Riley) Atkins, Hugo, OK and Janice Cook, Hugo, OK; eight Brothers, Ulysses Cook (Cassandra) – Fairfax, Virginia, James T. (Wilma) Cook, Ashdown, AR, Frederick (Joyce) Cook – Ashdown, AR, Luther Cook, Jerry Cook, Willie Cook, Jackie Cook, Johnny Cook; and a number of nieces, nephews, family and friends.
Mrs. French's visitation hours will be Friday, 3:00-6:00 P.M. at Lyles Funeral Home, Inc., and Saturday, 12:00 noon to 1:00 p.m. at Community Freewill Ministries, Ashdown, AR.
Closed Casket Funeral Service is 1:00 P.M. Saturday, June 18, 2022 at Community Freewill Ministries. Pastor Anthony Nelson, officiating.
Interment to follow in Cook Cemetery under direction of Lyles Funeral Home, Inc.
Online registration at lylesfuneralhomeinc.com.