ROOSEVELT JOHNSON JR.
June 23, 2022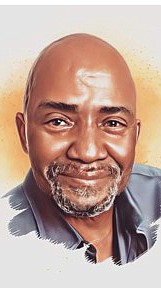 Mr. Roosevelt Bernard "B" Johnson, Jr. was born in Texarkana, Texas on April 17, 1952, to Roosevelt and Louise Johnson. Very early in life he chose to be a follower of Jesus Christ.
Roosevelt attended school in the Texarkana Independent School District. He had a charming smile and shared his love with his family, friends and those in the workplace. Roosevelt worked at Union Pacific Railroad for 43 years. He was married to Gloria Ann Johnson.
Roosevelt quietly and sweetly entered a new tomorrow on Sunday, June 19, 2022.
Survivors includes his wife, Gloria Ann Johnson; Daughters, DeAndea Steele, Arlington, TX, Latasha Montgomery, Texarkana; Sons, Roosevelt Johnson III, Arlington, TX, Lee Forte, Texarkana; Grandchildren, Courtney Steele, Sir Roosevelt Johnson IV, Eric Johnson, Steven Richmond, and Brice Johnson, Arlington, TX, Keenan Montgomery and Karson Montgomery, Texarkana, TX; Great-Grandchildren: Zaire Reed, Roosevelt Johnson V, Ka'Leiya Davis, Royalty Johnson and Honesti Johnson, Arlington, TX; Brothers, Major Edward C. Johnson, Humble, TX; Sister, Brenda J. Malone, Texarkana, Uncles, Bobby Jones, Texarkana.
He was preceded in death by brother Garry Johnson.
Closed Casket service will be Saturday, 3:00 P.M. at Lyles Funeral Home Memorial Chapel with Minister Rozell Traylor officiating and under direction of Lyles Funeral Home, Inc.
Mr. Johnson may be viewed at Lyles Funeral Home, Saturday, June 25, 2022 from 2:00-3:00 p.m.
Online registration at www.lylesfuneralhomeinc.com.