WILLIAM GILKEY
June 23, 2022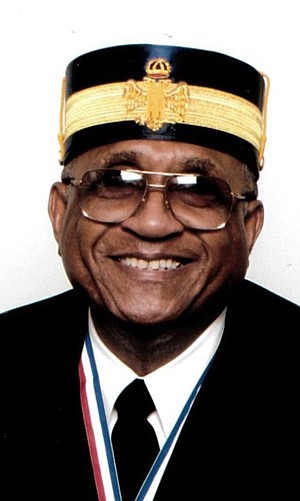 Command Sergeant Major William Henry Gilkey was born October 9, 1933 in Naples, TX to P.H. Gilkey, Sr. and Bennie Ree Gilkey. He attended elementary and high school in Wichita, Kansas and graduated high school in 1953 from Plainview School.
CSM Gilkey began serving his country, after joining the Army in November, 1953. He served 30 years before retiring in November of 1983.
Brother William H. Gilkey was an Honorary Past Grand Master Most Worshipful Prince Hall Grand Lodge of Arkansas, Honorary Past Grand High Priest Most Excellent Grand Chapter of Arkansas, Honorary Past Right Eminent Grand Commander H.J. Evans Grand Commandery of Arkansas, Gate City Lodge # 42 PHA Texarkana, W.P. Brown Chapter 142 Holy Royal Arch Masons, George Myles Council # 2 Royal and Select Masters, Arthur L. Parks Commandery # 4 Knights Templar Masons, S.T. Boyd Consistory # 201 Valley Washington, Mohammed Temple # 34 Prince Hall Shriners, Stateline Chapter # 19 OES. Sovereign Grand Inspector General William H. Gilkey served as the illustrious Commander in Chief of the Fred Johnson, Jr. Arkansas Council of Deliberations,. Sovereign Grand Inspector General Gilkey served as the Deputy for Arkansas for United Supreme Council Ancient and Accepted Scottish Rite of of Freemasonry Southern Jurisdiction Prince Hall Affiliated, USA.
Bro Gilkey served on the Deacon Board at Pilgrim Rest Missionary Baptist Church beginning in the early 1990's
While there, he was a teacher and mentor to all as well as being over the Building Fund.
He married the love of his life, his soulmate, Yvonne on August 19, 1989. They had a mutual love of traveling and meeting new people. They never met a stranger.
He leaves to celebrate his life, daughter, Deneise, granddaughter, Felicia, and great grandson, Quinton. He also leaves brothers, Bruce Wayne Gilkey (Brenda) and P.H. Gilkey, Jr. (Barbara). Sisters Anna Lois Robinson (Glen) and Lola Gilkey. He has many nieces, nephews and friends that also have great memories to cherish.
He was preceded in death by his wife, Yvonne and several brothers and sisters.
CSM Gilkey viewing will be 5:00-7:00 p.m., Friday, June 24, 2022 at the Pilgrim Rest Missionary Baptist Church, Mandeville, AR with Gate City Lodge # 42 performing at 6:00 P.M. Saturday, June 25, 2022, CSM Gilkey may be viewed at Pilgrim Rest Missionary Baptist Church, 9:00-10:00 a.m.
Closed Casket service will be Saturday, 10:00 A.M. at Pilgrim Rest Missionary Baptist Church with Bishop Gregory Brown as Eulogist and Min. Arthur McElroy officiating.
Online registration at www.lylesfuneralhomeinc.com.