Sarah Kennamer
March 11, 2022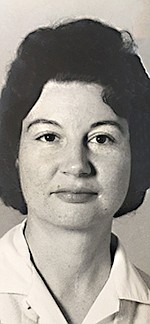 Sarah Virginia Kennamer, age 91, passed away Sunday, February 27, in Atlanta.
Ms. Kennamer was born September 9, 1930 in Atlanta. She was a teacher who worked in Atlanta, Smyrna, Ore City and Mercedes ISD's. She held Bachelor's and Master's degrees from East Texas State University, now Texas A & M University at Commerce.
She was preceded in death by her father Finas Hays Kennamer, mother Kathleen Coulter Kennamer and brother Coulter Hays (Mule) Kennamer. She is survived by her sister Carolyn Kennamer Heldt (Marcus), niece Kathy Harper (Wayne) , great nephew Jay Coulter Hazel, great niece Elizabeth Hazel, niece Melanie Moritz (Tony) great nephews Ike and Wyatt, nephew Todd Heldt (Kelley), great nephews Archer and August, and special friends Mary Robelas, Chris Kampainen and Sue Orite.
Memorial services will be 12:30 pm, March 13, 2022, at Queen City United Methodist Church, with Rev. Jeff Dotson officiating.
Guest Registry is available at www.hannerfuneralservice.com.