A former licensed vocational nurse who refused treatment to a severely diabetic 20-year-old detained in the Bi-State Justice Building jail last year was taken into custody after pleading guilty Monday to misdemeanor negligent homicide.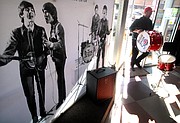 Brittany Danae Johnson, 27, will serve about three months in the Miller County jail in connection with the July 1, 2016, death of Morgan Angerbauer. Brittany Johnson received a six-month sentence with 90 days of the sentence suspended at a hearing before Circuit Judge Kirk Johnson. She also received credit for one day already spent in jail.
"Whether Ms. Johnson's actions were negligent or reckless, she must suffer the consequences of her actions," Prosecuting Attorney Stephanie Black said. "Ms. Johnson showed the same lack of empathy while Morgan's mother gave her victim impact statement as she did as Morgan lay dying on the floor. It is only right that she experience what it is like to be locked in a cell at the complete mercy of those in charge of her care and control."
When Brittany Johnson's case was first called Monday morning, Texarkana defense lawyer Jeff Harrelson told the court his client was willing to plead "no contest" to negligent homicide, but Judge Johnson declined to accept a plea other than guilty. Later in the morning, Brittany Johnson appeared before the court a second time and entered a guilty plea.
Brittany Johnson was originally charged with the offense to which she pleaded guilty. In August, Black amended the charge to felony manslaughter in expectation of a jury trial. Black said the plea agreement finalized Monday spares Angerbauer's family the stress of a trial and is in the interest of justice.
Before the hearing concluded Monday, Angerbauer's mother, Jennifer Houser of Texarkana, read a prepared victim impact statement that she held in shaking hands.
"I have watched the video of her banging on the door, screaming and begging for help," Houser said of jail surveillance footage which recorded Angerbauer's last hours in a medical observation cell just feet from the nurse's station.
"She was lying on the floor of her cell with no blanket in her own vomit," Houser said. "You refused to treat my child when you could have saved her."
Brittany Johnson stood just a few feet from Houser as she spoke. Brittany Johnson's expression did not change.
"I will never see her get married, have children, or spend another birthday or holiday with her," Houser said. "You get to move on with your life. Morgan never will."
Angerbauer died of diabetic ketoacidosis, a condition which occurs when blood sugar reaches dangerously high levels. At autopsy, Angerbauer's sugar level was 813, well above the normal range of 70 to 140.
Angerbauer banged on her cell door for hours the night of June 30, 2016, and into the early hours of July 1, 2016. Angerbauer asked Brittany Johnson to check her sugar around 5:15 p.m. June 30, but Brittany Johnson refused, telling Angerbauer that staff, not detainees, decide when medical attention occurs, according to a probable-cause affidavit used to create the following account.
"Shortly after 5 p.m., according to Johnson, she walked past the medical observation cell where Angerbauer was housed on her way to other segregation cells," the affidavit states. "Johnson openly admitted that Angerbauer told her she was ready to go to medical at that time. Johnson also admitted that she was fully aware of the severity of Angerbauer's medical diabetic situation, but rather than treat her, she told her that 'things don't work that way. If you miss your medical call, you have to wait until it's time for your next medical call.' Johnson told investigators that if she allowed all offenders to do that, she'd never get anything done," the affidavit states.
Angerbauer was arrested June 28, 2016, on a motion to revoke probation filed in Miller County alleging administrative violations such as failure to complete court-ordered programs. Glucose testing in the downtown Texarkana jail in the days before her death repeatedly showed high readings.
Jail trusties noticed Angerbauer unconscious on the floor of her cell about 4 a.m. July 1, 2016. Brittany Johnson was unable to obtain a numerical reading using blood sugar testing equipment and misinterpreted a reading as an error rather than as indicative of a dangerously high sugar level.
Brittany Johnson administered glucose, or pure sugar, as Angerbauer slipped deeper into unconsciousness. Brittany Johnson instructed jailers assisting her to lift Angerbauer into a sitting position before she put the glucose in Angerbauer's mouth. As they do, Angerbauer's head lolled from side to side.
According to records related to suspension of Brittany Johnson's nursing license with the Texas Nursing Board, 911 should have been immediately called when Angerbauer was discovered unresponsive in her cell. The nursing board records state that one of the jailers testified he repeatedly told Brittany Johnson that emergency help should be summoned but that Johnson refused for more than half an hour. By the time paramedics arrived, Angerbauer was dead.
Stacey Copley, a registered nurse with a doctorate in nursing, testified as an expert at a hearing concerning Brittany Johnson before the nursing board in January.
According to the hearing records, Cropley referred in her testimony to evidence indicating Brittany Johnson violated a board rule requiring nurses to give care without discrimination and described Brittany Johnson as acting with "conscious indifference."
A civil suit against LaSalle Corrections, the company which manages the Bi-State jail, is currently pending in federal court. Brittany Johnson, LaSalle owners and administrators and other jail staff are named as defendants as well. The lawyer who filed the civil suit in the Texarkana Division of the Eastern District of Texas on behalf of Angerbauer's estate and lawyers for the defendants in the civil suit, filed notice last week of an intent to settle the case for $200,000.